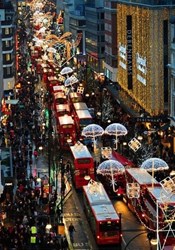 Christmas in London
London, United Kingdom (PRWEB UK) 4 December 2013
Christmas is a time of celebrations and London is a major European city that captures the spirit of Christmas in perfect splendour. Every year and specially during the month of December a number of traditional Christmas events receive great reception from the public. These are Christmas fairs / markets, Christmas Lights, carols and concerts, festive ice rinks, Christmas Grottos, toy shops, kids theatres and Pantomimes.
'Christmas markets are a favourite with Easy Relocation for some of them are particularly good for Christmas shopping or simply provide great seasonal foods'. Said Rozi the founder at Easy Relocation.
The Christmas venues and activities take place all over London and great deal of travelling will not be normally necessary. However, there will be admission charges into some of the Christmas Grottos or markets and tickets for the theatre and Pantomimes and even some carol and concerts have to be booked in advance. It is therefore advisable to check venue prices before attendance as Christmas can be an expensive time of the year for most people.
For an enjoyable day or days out during the month of December Easy Relocation recommend the following;
Plan ahead for all activities and bear in mind all means of transport can be particularly busy during December period.
Make a thorough search as to the best and closest venues available.
The recommended websites for reference are; timeout.com, londontown.com, and visitlondon.com.
For all outdoor events wrap up very warm.
For families with younger children the Pantomimes are a must experience.
The ice skating rinks are also highly recommended for all family members and friends as it certainly is an exciting and fun seasonal activity.
Visit some of the more quirky toy shops with in-house activities keeping children amused while shopping lists are accomplished.
Carol singing with candle lights are particularly seasonal.
For delicious and fresh foods on offer try one of the stores that provide Christmas delicatessens, butchers, greengrocers, cheese shops, and fishmongers.
At Easy Relocation we wish you a very Happy Christmas.
For more information about Easy Relocation's services for your business or personal needs, visit http://www.easyrelocation.co.uk and join us on Facebook and Twitter for the latest news and tips on London relocation.
About Easy Relocation:
Established in May 2012, Easy Relocation (exclusive) offers affordable and comprehensive relocation assistance and home search to companies and individuals moving to the UK and moving to London. Unlike other UK estate agents, at Easy Relocation we hold no business commitments with third parties or letting agencies. This gives us flexibility to conduct personalized, attentive and wide ranging property searches tailored to each client's budget, needs and taste. To learn more about our services and to see what Easy Relocation (exclusive) can do for your business, visit http://www.easyrelocation.co.uk and join us on Facebook and Twitter for the latest news and tips on London relocation.