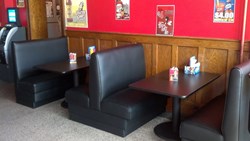 Menomonie, WI (PRWEB) December 04, 2013
Leading commercial furniture distributor, Restaurant Furniture.net recently helped Menomonie area Bar and Grill Broz Tavern to a successful grand opening.
Broz Tavern has quickly become one of the most popular local bars in Menomonie since it opened on Main St. recently. They serve the standard bar fare with an extensive selection of appetizers that include unique dishes such as deep fried mushrooms, Ellsworth cheese curds and favorites such as popcorn shrimp, mozzarella sticks and mini corn dogs. They also offer sandwiches, burgers, wings and pizza. They have wide screen televisions throughout the bar where customers can watch their favorite sporting events.
The owner contacted to Restaurant Furniture.net for tables, and restaurant booths because of their reputation for high quality at competitive prices explained sales person David M. He decided to go with Restaurant Furniture.net's Quick Ship Restaurant Single Booth which is 48" long and comes in heights of 36" or 42". He went with the 42" height which is currently available at the sale price of $209. He also bought Quick Ship Double Booths which are also on sale for $331 for the 42" height. The Quick Ship booths are available in black, wine and green.
"The Quick Ship Booths and Reversible Table tops were perfect for what the team at Broz Tavern were looking for," David said. "The quick ship booths are comfortable and functional, with the long-lasting durability and gives customers the privacy they are looking for, and is are reputed for their fine craftsmanship. Restaurant Furniture.net has a wide selection of dining booths in many shapes, colors and fabrics and can also be custom made in any shape, size or fabric. We are proud that all of our booths are made here in the U.S.A. by skilled artisans".
For the tables he chose the 24" X 30" reversible table tops for $26 each in mahogany and black finish. The reversible table tops also come in oak and walnut with a brown T-mold edge. The reversible table tops are very popular with customers because they are durable and affordable, ideal for taverns, bars and casual restaurants, yet they are versatile enough for any dining establishment. They come in square, round or rectangular shapes in a wide variety of sizes.
Browse Restaurant Furniture.net's full selection of commercial grade chairs, bar stools, table tops, table bases, booths and patio furniture at http://www.restaurantfurniture.net/ or talk to a customer service representative at (888) 409-1115.
Broz Tavern is located at 315 Main St. in Menomonie WI. They can be reached at (715) 309-2995.