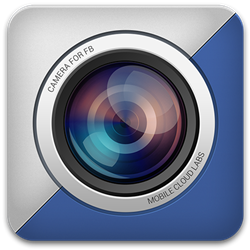 Our upcoming video support will be like nothing anyone has experienced on a mobile device.
London (PRWEB) December 05, 2013
Mobile Cloud Labs Plc., developers of high-quality applications for smartphones, handheld devices, and portable computers, today announced availability of Belynk for Android mobile devices. Belynk is the new name for Mobile Cloud Labs software application, "Camera for Facebook," and it foreshadows a new, expanded direction for the company's social media sharing app.
"By renaming Camera for Facebook to Belynk we are laying the foundation for a very powerful software app," stated Richard Sylvester, CEO of Mobile Cloud Labs Plc. "The strategic name change means we don't have to tie the product only to Facebook, or only to being a camera application. We have new amazing video features and functions in the works and the months ahead look very exciting. Our upcoming video support will be like nothing anyone has experienced on a mobile device."
The current release of Belynk simplifies posting photos to Facebook. Unlike other applications that require multiple complex steps to log in, access the appropriate photos, transfer them, and then posting to Facebook, Belynk reduces the entire process to two steps. All the user has to do is open the app and take a photo, and the photo is automatically uploaded to a designated Facebook album. Belynk is also the only app that currently allows you to create and access Facebook albums direct from your Android mobile device. Users can designate existing albums to capture new photos or create a new album, and albums can be designated public or private, so users can share photos on Facebook at a specific day or time. Users also can choose to designate "Wi-Fi only" for photo uploads to save on cellular airtime and the app takes full advantage of the Android smartphone's camera features, supporting normal camera mode for Facebook pictures, or burst camera mode for lower resolution action photos that need a faster shutter speed.
Belynk is currently offered for mobile devices running Android version 2.3.3 or later. More than one third of Android users are still using the older Android 2.3.3 operating system, hence they can be confident the app will migrate with them as they upgrade to a newer Android operating system.
Belynk is available for Android portable devices from the Google Play store by clicking here.
About Mobile Cloud Labs Plc
Mobile Cloud Labs are developers and marketers of high-quality applications for smartphones, tablet computers, and laptops with offices in Switzerland and the United States. The company is currently developing new location-based applications booming mobile advertising market, delivering messages with pinpoint accuracy to open up new marketing and point-of-sale strategies. The company is also developing new smartphone users to help them get more from their mobile social media experience.