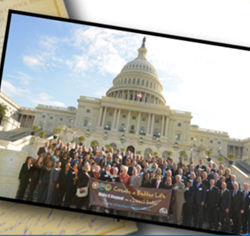 Direct selling is a driving force in America and the global economy.
(PRWEB) December 05, 2013
Representatives from Stemtech International Inc., The Stem Cell Nutrition Company, stood proudly on the steps of the United States Capitol building on Oct. 23, 2013 with 25 other direct-selling businesses and individuals to present The Direct Selling Proclamation and Compact to Congress.
Considered "a celebration of direct selling," the Proclamation reminds Congress that 15.9 million Americans are engaged in direct selling, creating $31 billion in annual sales and unprecedented independent business opportunities to a wide variety of American citizens.
By signing the Proclamation, Stemtech and its fellow direct selling companies pledged to continue to uphold the highest business standards offering "innovative, unique and valuable products and services to the American consumer," as well as continuing "to work with governmental and non-governmental policymakers to protect consumers."
Ray Carter, President & CEO of Stemtech – one of the nation's leading direct selling companies – is encouraged by both the clarity and commitment in the Proclamation.
"Direct selling is a driving force in American and the global economy. For Stemtech, direct selling is the way that our cutting-edge health and wellness products reach the people who need them the most." Stemtech VP/North American Markets Don Karn, who was there on the Capitol steps with Stemtech Independent Business Partner Dr. Herman Bell that October day, agrees. "Signing our name, and representing the many thousands of Stemtech representatives in the United States alone, shows our industry's commitment to excellence and ethics as our guiding principles. We were proud to be there on that day."
Joseph Mariano, President, Direct Selling Association, called the Proclamation "a very strong, constructive and positive message" to Congress about the health and value of the direct selling industry.
"Stemtech International is proud of our products and the thousands of Americans and vendors around the world who promote health and wellness with Stem Cell Nutrition products, while enhancing their own lifestyles and families with flourishing businesses," says Carter. "We encourage all our vendors and anyone whose life has been positively impacted by the diverse and amazing range of products available through direct sales to sign this important petition."
The Direct Selling Proclamation and Compact is available online for individual signatures at http://www.stemtech.com.
Learn more about Stemtech, its products, published clinical studies, and patents at http://www.stemtech.com.