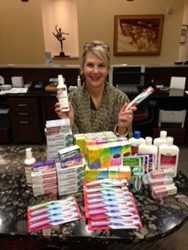 The dental office participates in many of the local charity event, as the doctors encourage community service in the office, and the staff enjoys helping others.
Marietta, GA (PRWEB) December 05, 2013
Verde Pointe Dental Associates, Drs. Kirk Kimmerling and Suzanna Aguilera are volunteering and collecting items for residents at the Day Break Village Assisted Living, a local family owned and operated assisted living village located in Historic Kennesaw, GA. The effort being coordinated by Laurielyn Ethridge, an office manager at the cosmetic dental office. "The dental office participates in many of the local charity events, as the doctors encourage community service in the office. The staff enjoy participating and helping others," says Ms. Ethridge.
The dental office has collected many items for the residents at the living facility such as Kleenex, nail polish, puzzles, lotions, soaps, hair care items, nail polish remover, handkerchiefs, small stuffed animals, and costume jewelry. Ms. Ethridge has arranged for Colgate to donate tooth brushes and toothpaste to the effort. Dr. Kimmerling, the CEO of fiteBac SkinCare LLC has donated hand santizer, fiteBac SkinCare Germicidal Hand Softening Gel to the residents. Some of the collections will be given away as door prices at Bingo for the residents.
Day Break Village is a family owned and operated, home-like facility striving towards best practices to meet the physical, social and medical needs of the seniors served, considering it an honor caring for seniors in the community. Care options allow for the freedom to choose between independence, assistance, or the memory care unit in which to live. Adult daycare, hospice, long term and short term services are also available.
Kirk Kimmerling DDS and Suzanna Aguilera DMD are award winning Marietta cosmetic dentists and Marietta emergency dentists in Marietta, GA, (near Kennesaw, Dallas, Powder Springs, and Austell) that are dedicated to helping people achieve the smile they desire. The dental office is a full service practice providing everything from teeth cleanings, teeth whitening, Zoom whitening, dentures, bridges, crowns, veneers, root canals, porcelain veneers, dental fillings, root canal therapy, dental extractions, dental crowns, dental bridges, dental implants, dental veneers, toothaches, dental emergencies and more. The dentists are accepting new patients to the dental practice with a $100 coupon good towards services for new families.