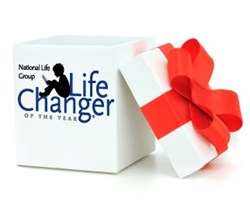 Being nominated as a LifeChanger was an unexpected gift. It's a great feeling to know your efforts are recognized and appreciated by so many.
Montpelier, VT (PRWEB) December 04, 2013
The holiday season is a great time to give thanks to outstanding teachers and school employees who work hard throughout the year to make a positive difference in the lives of students. Being nominated for an award and recognized by their school community for doing what they love can be a gift with many rewards.
LifeChanger of the Year is an annual program that recognizes and rewards K-12 school district educators and employees from around the country who are making a difference in the lives of students by exemplifying excellence, positive influence and leadership. Each year ten national winners are selected to receive a personal cash award and a matching donation for their school. This year's Grand Prize is $10,000.
Last year, Charles Clark, a custodian at Trinity High School in Euless, Texas, was selected as the National LifeChanger of the Year Grand Prize winner out of more than 400 nominations for teachers, administrators and school district employees from 33 states. Over the years, Clark has purchased clothing and shoes for needy students, provided transportation and has even taken students into his home when they needed a place to stay.
"Being nominated as a LifeChanger was an unexpected gift," said Clark. "Just being recognized as someone who is a positive influence and a role model for students was a real honor but actually winning the national award was something I never imagined. It's been an incredible experience. It's a great feeling to know your efforts are recognized and appreciated by so many," said Clark.
There is no cost to participate in the program. Anyone—including parents, administrators, fellow school district employees, students (with approval from an adult), and other members of the community—can nominate any full-time K-12 school district employee.
Each nominee receives a personal profile page on the LifeChanger website where members of their school community can post positive comments to support their nomination and help spread the word through social media.
In addition, during the month of December, new nominees will receive an extra holiday gift: a limited edition "2013-14 LifeChanger of the Year Nominee" ceramic mug, along with a personal message from their nominator.
"Last year on Christmas Eve, I sat in the quiet of my apartment reading all of the comments parents, students, and teachers left on my nominee profile page," said Susan Turner, a 6th Grade World History Teacher from Hollywood, Florida, and one of last year's LifeChanger of the Year award winners. "The comments are the best gift I have ever received. For me, they are the award."
In the spring, a national LifeChanger of the Year selection committee, which includes teachers and school employees, will review all nominations and choose the ten winners for the 2013-14 school year based on the following criteria:

A proven ability to make a beneficial difference in the lives of students
An ability to positively add to the development of the school's atmosphere
A leader in his or her activities at the school and/or district level
A proven record of excellent performance at the professional level
A commitment to producing a nurturing atmosphere
To nominate an outstanding teacher or school district employee this holiday season, visit http://www.lifechangeroftheyearnominees.com and click on the "Nominate!" button in the top menu.