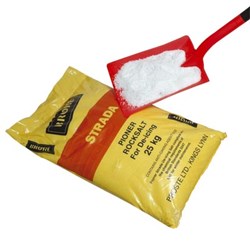 White rock salt is very fast acting and reduces interior cleaning costs in comparison with brown salt.
(PRWEB UK) 6 December 2013
Standard grit is of brown colouration and contains a large amount of filler which does little to actually melt snow. It also has the downside of creating a mess within the building as it is trailed in on the shoes of visitors which takes time and effort to clean up. It is a recognised fact that 70-80% of interior soiling (including grit) enters buildings via foot traffic however measures can be taken to reduce this contamination.
White Rock salt is 99% pure with very little filler and is of white colouration. This means that although the salt may still enter the building it will not tarnish the floor as much as brown grit does. Due to the white rock salt being pure it also has the advantage of less being needed to melt the snow.
A second measure that can be taken to reduce the amount of soiling within the building is the placement of high quality, fit for purpose matting at the entrance of the building. It is recommended that 5 linear metres of matting is required to effectively remove dirt and moisture which both reduces the risk of slipping while simultaneously keeping your establishment clean and maintaining its professional image.
Vita Direct is a company based in the North East of England that specialises in a range of cleaning/janitorial solutions.
For more information on the items discussed and to view other items like this visit our site at http://www.vitadirectuk.com.