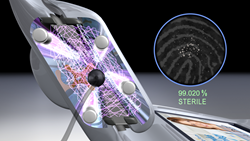 A breakthrough solution has been developed and patented, to make the simple act of signing your name safe again.
Tampa, Florida (PRWEB) December 05, 2013
Every time someone signs their name at an electronic credit card terminal, they come in contact with a serious health hazard: chronic contamination of public writing instruments.
Who hasn't wondered what hazardous viruses, bacteria or diseases the person ahead of you in line suffers from? How many times, throughout flu season in particular, do retail customers and hospital patients say to themselves: "do I really want to touch that?" (Of course not. But they have to...they are signing a point-of-sale or medical signature pad).
"Signature pens collect and transfer other people's illnesses to the next person in line...you!" says Lee Gregg, co-developer of Sterile Pens technology.
On September 12, 2012, Forbes estimated that U.S. workforce illness costs $576 Billion from sick days to workers compensation. Public pens carrying the public's germs are a major component of that health risk.
Now there is a simple, automated solution.
A new, patented technology automatically sterilizes counter pens at credit card terminals.
Sterile Pens LLC, a small group of technology innovators, is pleased to announce that a breakthrough solution has been developed and patented, to make the simple act of signing your name safe again.
Sterile pens technology uses a unique application of ultraviolet light to stop the transfer of infection at the point-of-sale terminal by sterilizing the stylus with UV light.
After signing their name on the credit card terminal screen, the user simply places the stylus into the top of the device. The weight of the pen opens a small door to a light chamber. After the door closes, the pen is automatically lowered through a timed, germ-busting exposure to 4 anti-microbial UV lights. The pen slides down a reflective, mirrored light chamber, sealed optically to safely contain the light.
UV rays focus on the pen from literally 360 degrees, surrounding it with serious sterilization power. 99.02% of all microbes are killed on the stylus, all within 15 to 20 seconds.
When it's done, the UV light is automatically turned off, and the pen drops out into a curved pick-up tray, sterilized, safe and ready for the next customer to use.
No more dangerous transfer of viruses, bacteria and disease.
No longer do retail customers and hospital patients have to worry about catching the next super-bug from a disgusting signature pen at a credit card terminal.
This new technology promises to shake up the point-of-sale electronics industry, as retail customers become aware that an automated solution exists to prevent chronic contamination from dirty signature pens.
Retail customers and hospital patients who would like to urge retail businesses, healthcare facilities and credit card terminal manufacturers to protect their health and adopt this technology are being urged to share this via social media.
Credit card and point-of-sale electronics companies have a timely opportunity to champion prevention as the definitive solution to soaring healthcare costs with this new technology.
See this technology in action now.
For more information including a video, detailed illustrations and licensing opportunities go to:
or call: 1-813-341-2987
or email us at: info(at)sterilepens(dot)com