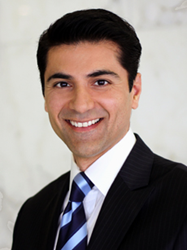 The message from the FDA when it comes to colored contacts, is that if you want to wear them, you need to go to an ophthalmologist.
Beverly Hills, CA (PRWEB) December 13, 2013
Sonu Ahluwalia, MD, a board-certified orthopedic surgeon at La Peer Health Systems in Los Angeles, California, appeared recently on his weekly Good Day LA segment. While on the show he warned people about the dangers of the non-prescription contact lenses that many people use to change the look of their eyes for Halloween.
"The problem with these contact lenses is that they can scratch the cornea, which could potentially lead to serious problems in the future, including infection and blindness."
Dr. Ahluwalia also pointed out that many people buying these contacts are trying contact lenses for the first time and may not have the knowledge they need protect their eyes and remain the safe.
"The message from the FDA when it comes to colored contacts, is that if you want to wear them, you need to go to an ophthalmologist," said Dr. Ahluwalia. "Don't buy them from a costume store, because it's not safe."
Sonu Ahluwalia, M.D. is Board Certified in Orthopaedic Surgery and is a fellow of the American Association of Orthopaedic Surgeons. He is the Chief of Orthopedic Surgery at Cedars Sinai Medical Center and has privileges at Olympia Medical Center along with many ambulatory surgery centers, including La Peer.
Dr. Ahluwalia was born in New Delhi and grew up in India. He attended medical school at Mahatma Gandhi Memorial Medical College in India before moving to the United States in 1993. He received his medical training in Boston and New York until 2003 when he went into private practice in Beverly Hills. Dr. Ahluwalia has been featured on television programs such as Fox 11 Los Angeles, Oxygen, Extra, Time: Health & Family and the Today Show for his expertise in orthopedic surgery.
La Peer Health Systems is an outpatient surgery center in Beverly Hills, founded by doctors and focused on providing excellent patient care alongside the most cutting-edge medical treatments available. With 50 world-renowned physicians in 14 specialties, comprehensive medical treatment is offered that takes patients from consultation to diagnosis, treatment, surgery, and ultimately aftercare. The 14 medical departments include orthopedics & sports medicine, gastroenterology, head & neck surgery, colorectal & general surgery, podiatry, ophthalmology, pain management, plastics & reconstructive surgery, gynecology, spine surgery, interventional cardiology, bariatric surgery, thoracic surgery, and anesthesiology. Unlike large hospitals, La Peer's unique structure offers extremely personal care in a safe and controlled environment.