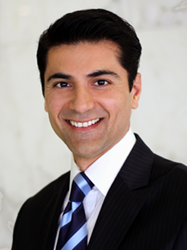 The problem is that we focus so much on drugs.
Beverly Hills, CA (PRWEB) December 13, 2013
Sonu Ahluwalia, MD is a board-certified orthopedic surgeon at La Peer Health Systems, an outpatient surgery center in Los Angeles. In his weekly segment on Good Day LA, Dr. Ahluwalia discussed the benefits of exercise, and how it is just as effective, if not better, than prescription drugs, for treating certain illnesses.
"The problem is that we focus so much on drugs," said Dr. Ahluwalia. "Patients come into our office and want a quick fix, and we give it to them instead of offering long-term solutions."
During the segment, Dr. Ahluwalia discussed a new study which shows that exercise may be as effective, if not better, than prescribed drugs in treating certain illnesses. The study, which was conducted through Harvard, Stanford, and London Economics, pulled other related studies that had either exercise or drugs as a treatment and compared them. Through 57 studies and 14,000 patients, the study examined coronary disease, heart failure, type II diabetes, and stroke, to see what the effect of exercise versus drugs was on the condition.
The findings of this study concluded that, other than heart failure, where the diuretics worked well, there was either no difference or the exercise worked slightly better. For patients who had suffered a stroke, the exercise was better, and for the diabetes and coronary disease patients, it was about the same.
This study is significant because there have not been many studies which directly compare exercise and drugs, and this could mean change in the way doctors prescribe medicine. Dr. Ahluwalia said that he hopes these findings will start a conversation between doctors and their patients about how exercise not only makes them healthy, but also keeps them healthy. The downside to exercise is so much smaller than the downside to medication.
"So I definitely think that exercise is what we need in the future," said Dr. Ahluwalia. "Our health care bills are going sky high. Exercise is free."
Sonu Ahluwalia, MD is board-certified in orthopedic surgery and is a fellow of the American Association of Orthopaedic Surgeons. He is the Chief of Orthopedic Surgery at Cedars Sinai Medical Center and has privileges at Olympia Medical Center along with many ambulatory surgery centers, including La Peer.
Dr. Ahluwalia was born in New Delhi and grew up in India. He attended medical school at Mahatma Gandhi Memorial Medical College in India before moving to the United States in 1993. He received his medical training in Boston and New York until 2003 when he went into private practice in Beverly Hills. Dr. Ahluwalia has been featured on television programs such as Fox 11 Los Angeles, Oxygen, Extra, Time: Health & Family and the Today Show for his expertise in orthopedic surgery.
La Peer Health Systems is an outpatient surgery center in Beverly Hills, founded by doctors and focused on providing excellent patient care alongside the most cutting-edge medical treatments available. With 50 world-renowned physicians in 14 specialties, comprehensive medical treatment is offered that takes patients from consultation to diagnosis, treatment, surgery, and ultimately aftercare. The 14 medical departments include orthopedics & sports medicine, gastroenterology, head & neck surgery, colorectal & general surgery, podiatry, ophthalmology, pain management, plastics & reconstructive surgery, gynecology, spine surgery, interventional cardiology, bariatric surgery, thoracic surgery, and anesthesiology. Unlike large hospitals, La Peer's unique structure offers extremely personal care in a safe and controlled environment.
To learn more about La Peer Health Systems, visit http://www.lapeerhealth.com.