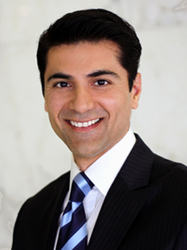 This is the first time we've actually seen these mosquitoes in California.
Beverly Hills, CA (PRWEB) December 12, 2013
Sonu Ahluwalia, MD, a board-certified orthopedic surgeon at La Peer Health Systems in Los Angeles, appeared on Good Day LA this Monday, October 21, 2013. Dr. Ahluwalia used his weekly segment to discuss two important health topics. The first was a warning to be on the lookout for a new kind of mosquito that is capable of transmitting dangerous diseases to humans.
"This is the first time we've actually seen these mosquitoes in California," said Dr. Ahluwalia. "And the scary thing about this particular mosquito is that it's capable of carrying yellow fever and dengue, which are dangerous and potentially deadly diseases."
Dr. Ahluwalia explains that, unlike other mosquitoes, this type of mosquito likes human blood and bites during the day. So far, none of these mosquitoes have been found carrying either disease, but Dr. Ahluwalia suggests it may only be a matter of time.
In addition to mosquitoes, Dr. Ahluwalia discussed the oncoming flu season and the value of getting the vaccine now, especially for those who may have a weakened immune system.
"Flu shots are most important for babies and older adults," said Dr. Ahluwalia. "If you are going to be around people who are vulnerable, you should get the vaccine for sure."
Dr. Ahluwalia also pointed out that now is the best time to get the shot. Flu season reaches its peak in December, but by getting the vaccine now, people can protect themselves, while at the same time, not having to worry about the vaccine running out.
Sonu Ahluwalia, M.D. is board-certified in orthopedic surgery and is a fellow of the American Association of Orthopaedic Surgeons. He is the Chief of Orthopedic Surgery at Cedars Sinai Medical Center and has privileges at Olympia Medical Center along with many ambulatory surgery centers, including La Peer.
Dr. Ahluwalia was born in New Delhi and grew up in India. He attended medical school at Mahatma Gandhi Memorial Medical College in India before moving to the United States in 1993. He received his medical training in Boston and New York until 2003 when he went into private practice in Beverly Hills. Dr. Ahluwalia has been featured on television programs such as Fox 11 Los Angeles, Oxygen, Extra, Time: Health & Family and the Today Show for his expertise in orthopedic surgery.
La Peer Health Systems is an outpatient surgery center in Beverly Hills, founded by doctors and focused on providing excellent patient care alongside the most cutting-edge medical treatments available. With 50 world-renowned physicians in 14 specialties, comprehensive medical treatment is offered that takes patients from consultation to diagnosis, treatment, surgery, and ultimately aftercare. The 14 medical departments include orthopedics & sports medicine, gastroenterology, head & neck surgery, colorectal & general surgery, podiatry, ophthalmology, pain management, plastics & reconstructive surgery, gynecology, spine surgery, interventional cardiology, bariatric surgery, thoracic surgery, and anesthesiology. Unlike large hospitals, La Peer's unique structure offers extremely personal care in a safe and controlled environment.