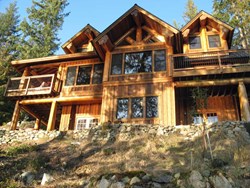 "Every year, we receive more outstanding projects and are overwhelmed with the craftsmanship and dedication of our sawmill owners. Their projects are extraordinary."
Indianapolis, IN (PRWEB) December 09, 2013
Wood-Mizer LLC, the world's leading sawmill manufacturer, has announced the winners of their 2013 Personal Best Contest, a long-standing tradition that recognizes Wood-Mizer sawmill owners who have fulfilled their dream projects by sawing their own lumber.
The contest, which occurs every two years, is open to any Wood-Mizer sawmill owners interested in competing for their share of the $20,000 in prize credits which is awarded. The 2013 contest marked the most Personal Best entries Wood-Mizer has ever received.
Each entry was judged on creativity, originality, complexity, quality of workmanship, and overall use of the Wood-Mizer sawmill to complete the project. First, Second and Third Place winners were named in each category.
Mike Collier of Vancouver, British Columbia won First Place in Category 1, Homes and Major Structures. Mike built a 2,800-square-foot island getaway home with his Wood-Mizer LT15. After the three year project was completed, Mike said, "This house could only be built because of my Wood-Mizer sawmill."
Other First Place winners include Joe Vardanega of Oregon, Nicholas Spooner of Vermont, Justin Metcalf of North Carolina, Chris Becker of Pennsylvania, Gary Allison of California, Lynn Davis of Mississippi, and Lynn Krom of Michigan.
"Every year, we receive more outstanding projects and are overwhelmed with the craftsmanship and dedication of our sawmill owners. Their projects are extraordinary," comments Dave Mann, National Sales Director for Wood-Mizer. Each of the winning projects was featured with an article in The Wood-Mizer Way magazine.
To browse all 158 projects and inspirational stories, visit http://www.woodmizer.com/pb.
As the leading manufacturer of portable band sawmills for more than 30 years, Wood-Mizer offers an extensive line of portable and industrial sawmill equipment. The company supports its equipment with legendary customer service, blades, and blade maintenance equipment. For more information about Wood-Mizer, call 800.553.0182 or visit http://www.woodmizer.com.
###
Note to Editors: A list of winners is attached. For high resolution pictures or more information, contact Chase Warner at cwarner(at)woodmizer(dot)com.
Wood-Mizer
2013 Personal Best Winners
Category 1 – Homes and Major Structures
First Place: Mike Collier - Vancouver, British Columbia
Second Place: Ross & Joslin Bennett - Henniker, New Hampshire
Third Place: Richard & Sharon Maki - Monarch, Montana
Category 2 – Small Homes and Cabins
First Place: Joe Vardanega - Terrebonne, Oregon
Second Place: Harry Lippert - Rockvale, Tennessee
Third Place: Warren Candee - Great Barrington, Massachusetts
Category 3 – Large Barns and Garages
First Place: Nicholas Spooner - West Topsham, Vermont
Second Place: Richard Cloutier - L'Ange-Gardien, Quebec
Third Place: Ralph Klein - Scottsville, Virginia
Category 4 – Small Barns and Sheds
First Place: Justin Metcalf - Mars Hill, North Carolina
Second Place: Robin Graham - Owens Cross Roads, Alabama
Third Place (TIE): Robert Gondar - West Burke, Vermont
Third Place (TIE): Randy Madison - Jacksonville, Florida
Category 5 – Interior Projects
First Place: Chris Becker - Northampton, Pennsylvania
Second Place: Hank Carroll - Bluffton, South Carolina
Third Place: Bob Jones - Emporium, Pennsylvania
Category 6 – Exterior Projects
First Place: Gary Allison - Turlock, California
Second Place: Craig Forman - Meadville, Mississippi
Third Place: Gerald Christenbury - Seneca, South Carolina
Category 7 – Goodwill
First Place: Lynn Davis - Brookhaven, Mississippi
Second Place: Robert Gondar - West Burke, Vermont
Third Place: Boyd Flynt - Powder Springs, Georgia
Category 8 – Wide Open, Unusual & Unique
First Place: Lynn Krom - Bay City, Michigan
Second Place: Bob Harbrige - Commodore, Pennsylvania
Third Place (TIE): John Baker & William Dorsey - Ayden, North Carolina
Third Place (TIE): Steven Brown - Stafford, Virginia