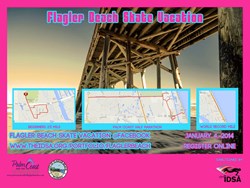 Flagler Beach, FL (PRWEB) December 05, 2013
The sport of longboarding is coming to the beach for the start of 2014. For most, the start of new year is coronated with party hats and fireworks, but the city of Flagler Beach wants to be special. They've decided to host a longboarding skate vacation to kick off the new year on the beach. Records will be broken and people's wills will be tested in one-mile and half marathon races. This is sure to be more fun than any of your current new year's plans.
The Flagler ½ marathon and 1 Mile Guinness World Record Skateboard races will take place Saturday, January 4, 2014 and kickoff the International Distance Skateboard Association (IDSA) sanctioned events for 2014. There will be a beginners 1.7 mile race, as well, for kids to take part in the event. Registration is open and will also be available at Veterans Park on Friday and Saturday the weekend of the event. The ½ marathon and beginners course will begin and end at Wadsworth Park at 8:00AM and run thru Palm Coast. The 1 Mile Guinness World record race will run south on A1A ending at the Flagler Beach Fishing Pier. This race will directly follow the ½ marathon race. This race is for the fastest time on a longboard in a 1 mile. The current record is 3 minutes and 35 seconds held by Steven Sanchez. The International Distance Skateboard Association will sanction this event to help grow the sport, as well as provide the insurance for the event.
To register online: http://theidsa.org/portfolio/flaglerbeach/.
About IDSA
The IDSA's mission is to act as the global governing body to ensure the safety of event competitors by ensuring that route inspection, age grouping and event insurance needs are met; to grow international awareness and participation by demonstrating skateboarding's benefits toward a healthy and positive lifestyle; and to ultimately infuse new energy into skateboarding as a viable and legal mode of transportation. The IDSA can be visited at http://www.theidsa.org.