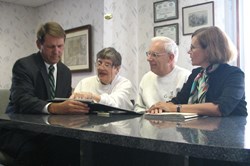 Increased longevity means that your retirement can span decades. That's a long time to be spending and not saving!
North Smithfield, RI (PRWEB) December 07, 2013
Husband and wife team Ray and Ann Auclair of retirement and financial planning firm Auclair & Auclair, LLP have started offering complimentary, hour-long seminars on how to manage money before and during retirement. They have chosen to focus their business on retirement since the baby-boomer generation is getting closer to (if they're not already in) retirement.
Retirement is typically the longest life event you will ever face, and it generally dominates other financial goals. According to a U.S. Census Bureau report, the average life expectancy is 74.4 years for males and 81.4 years for females. Increased longevity means that your retirement years can span decades. That's a long time to be spending and not saving.
"Retirement is different today than it was for our parents and grandparents," said Ann Sutherland-Auclair. "There are many aspects to retirement planning and we will be focusing on all of them. It is our goal for folks to leave the seminars with a more confident attitude about the years ahead."
The "Retire-Ready" series will cover topics such as establishing your retirement income needs, retirement income sources, five retirement risks, legal concerns, and volatility and diversification. Ray and Ann have found many willing ears since they have launched this initiative in October 2013. The seminars are small (4-6 people per group) and intimate. This way, it is easier to connect with each participant and answer all of their specific questions. The seminars are open to the public as well as their clients. Soon, the Auclairs will be looking to take this show on the road to local businesses and other public venues.
The next "Retire Ready" seminar is January 21st at 6:00 p.m. - 7:00 p.m.
To register, see additional seminar dates, or to find out more about the "Retire Ready" series visit Auclair-Auclair.com.
About Auclair & Auclair:
Ray & Ann Auclair are financial advisors located at Auclair & Auclair, LLP, 598 Great Road,
North Smithfield, RI. They offer securities and advisory services as Investment Adviser Representatives of Commonwealth Financial Network®, Member FINRA/SIPC, a Registered Investment Adviser. They can be reached at 401-765-1711.
This communication is strictly intended for individuals residing in the states of CT, FL, MA, ME, NC, PA, RI, SC . No offers may be made or accepted from any resident outside these states due to various state requirements and registration requirements regarding investment products and services.
© 2013 Commonwealth Financial Network®
Commonwealth Financial Network® does not provide legal or tax advice.