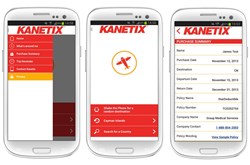 Toronto, On (PRWEB) December 05, 2013
KANETIX.ca is excited to announce a new update to its Travel Insurance App for Android phone and tablet users.
The new update will give Android users the ability to use Google Places to find a variety of amenities while traveling, including:

Banks / ATMs
Restaurants
Hotels
Hospitals
Gas Stations
The new Travel App also has an enhanced menu for users giving them the ability to easily navigate through the app and find what they need to make their time away from home the most enjoyable.
Also when consumers purchase a travel insurance policy from their Android device, they will receive a detailed purchase summary of their policy in a PDF format. This summary will include:
Names of Travellers
Travel Dates
Destination
Date Policy Purchased
Name of Plan Purchased
Policy Number
Contact Numbers for Company
And for frequent travelers always on the go who want to keep their travel dates on top of mind, KANETIX.ca's Travel App also features a trip reminder to keep all scheduled vacations in an organized manner for future reference.
KANETIX.ca's Travel App is also available for download for iPhone, iPad and iPod device users.
–30 –
About KANETIX®
Launched in October 1999, KANETIX was Canada's first online insurance marketplace and today provides over a million quotes per year to consumers looking for insurance, as well as comparisons for mortgage rates and credit cards.
The KANETIX comparison service is a one-stop shopping environment for consumers. Each day, thousands visit KANETIX.ca to comparison shop their various financial needs. Shoppers choose what they want to compare, obtain a quotation and complete an online application or, with the help of KANETIX connect with the provider to purchase or apply for the product over the phone.
Through its Software as a Service team, KANETIX is also the leading provider of online insurance quotation technology, developing online quotation systems, mobile solutions, actuarial tools and websites for many of Canada's largest insurance brands.
For more information, visit KANETIX.ca or contact:
Natasha Carr
416.599.9779 ext. 343
publicrelations(at)kanetix(dot)ca
Kanetix Ltd.