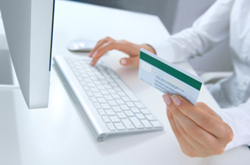 Having the technology to process online credit transactions is crucial this holiday season!
Toronto, Ontario, Canada (PRWEB) December 04, 2013
Monday, Monday! Though much of the attention around Thanksgiving shopping has been centred around Black Friday, shopping on Cyber Monday has become increasingly more popular as personal computers have become commonplace.
This holiday season, almost 75% of Canadians will do at least some of their shopping online - taking advantage of their ability to make credit purchases without leaving the comfort of home. However, shopping online doesn't just allow consumers to do their shopping in their pajamas while avoiding busy rushes at the mall.
Sixty-four percent of Canadian shoppers who find the best deal on merchandise online will make that purchase from their personal computer and with many Cyber Monday deals extending into "Cyber Week Deals" that tend to match, if not better, those given on Black Friday - that figure is set to rise.
"With customers more comfortable than ever making purchases online, having the technology to process online credit transactions is crucial this holiday season" says Parry Rosenberg, Vice President of Sales and Marketing at MONEXgroup. "Cyber Monday provides retailers an opportunity to increase their visibility by offering unique deals online, and MONEXgroup can provide you with all the tools your business needs."
No matter the size of your business, MONEXgroup's eCommerce solutions allow you to easily and securely process credit transactions on your website, keeping your business current with the current trends in retails.
Don't get left in the cold this holiday shopping season; make your Cyber Monday or rather - this Cyber Week, a profitable one with eCommerce solutions from MONEXgroup.
MONEXgroup is the number one payment processing provider in Canada offering the lowest rates in the industry. Our services include: debit card and credit card point-of-sale (pos) terminals, mobile, integrated and e-commerce online payment products. MONEXgroup serves over 20,000 merchant accounts across Canada in all market segments including: restaurants, business-to-business, professional services, leisure and hospitality.
Holly Murray
MONEXgroup
Marketing Communications
HMurray(at)MonexGroup(dot)com
T: 647 204 0197
http://www.monexgroup.com