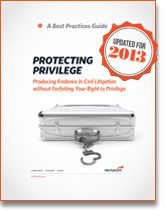 Chicago, IL (PRWEB) December 04, 2013
Protecting attorney-client privilege is perhaps the most vital obligation lawyers have to their clients. In a digital age with ever-expanding data volumes, defending against the inadvertent production of privileged information is a true challenge. Nextpoint's newly updated and revised guide has all of the information lawyers need to create a roadmap to successfully navigate the challenges of protecting privilege and effectively defend their clients.
Download Nextpoint's newly updated and revised Best Practices Guide for Protecting Privilege to help lawyers defend the right of attorney-client privilege. In case after case, judges have ruled that if lawyers fail to protect privilege, that right is easily lost. We've broken down the recent case law and federal rules through 2013 to give lawyers simple instructions for protecting privilege in any matter.
Click here to download it today.
This guide includes:
A comprehensive approach to protecting attorney-client work product
Best practices to avoid waiving privilege
Details surrounding the controversial clawback agreement
A look at recent case law pertaining to waivers in attorney-client privilege and some lessons to be learned
Nextpoint's Discovery Cloud eDiscovery review platform is the only solution with built-in Privilege Protect production workflows and advanced technology for identifying and isolating potentially privileged documents.
We encourage any legal professional to download Nextpoint's ebook, Best Practices Guide for Protecting Privilege to help defend your right of attorney-client privilege.
About Nextpoint
Nextpoint provides cloud computing tools and services for legal, compliance and regulatory needs. The Nextpoint platform is an on-demand, multi-tenant suite of software-as-a-service products that are transforming the way corporations, governments and lawyers collaborate and manage electronic data. Nextpoint manages terabytes of data for hundreds of large legal related-entities, including corporate customers, government entities and law firms of all sizes, from solo practitioners to the AmLaw 200.To find out if Nextpoint is right for your organization, please visit our website.