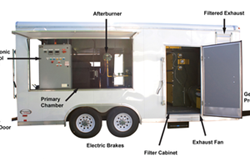 'We're excited by this new agreement with MED A/S and look forward to supporting small arms ammunition disposal in Northern Europe,' said Tom Braithwaite of TWB Designs
Hamilton, Ontario (PRWEB) December 06, 2013
TWB Designs, Inc., a military manufacturer based in Hamilton, ON announced today that it has signed a multi-country sales agent agreement with Military Equipment Denmark A/S, of Regstrup, Denmark. MED A/S will promote TWB Designs' environmentally smart small arms ammunition disposal equipment, in the Nordic and Baltic regions. The agreement covers sales in Denmark, Norway, Sweden, Latvia, Lithuania, Estonia and Finland. TWB Designs' equipment handles ammunition and explosive ordnance up to 50 calibre.
"Access to these countries is important to us as a key entry to Europe," said Tom Braithwaite, president of TWB Designs. "With a new Canadian-E.U. trade agreement in place, this is a very timely advance for us. Most countries have excess or expired explosive ordnance which requires safe and environmentally smart disposal, and we have the right equipment for on-site EOD."
TWB Designs manufactures the eMACS, the "Environmental Mobile Ammunition Combustion System," which cleanly burns the explosive material in ammunition, then safely separates lead and brass for recycling at best available prices for the user. The eMACS processes about 1000 lbs of small arms ammunition per day, which can result in approximately $1000 of reclaimed clean metals.
The eMACS meets California EPA and NATO air handling standards in the process of safely disposing of explosive small ordnance. The International Association of Chiefs of Police (IACP) awarded the eMACS its competitive innovation award during a ceremony in Chicago in late 2011.
Military Equipment Denmark A/S is a military sales company west of Copenhagen, with a strong reputation in the region. MED A/S (http://www.medas.dk) was founded in 1987 by Leif Braae and provides both government and civilian customers with a wide range of defence products, protection equipment and related services. MED A/S maintains a strong focus on product quality, environmental conditions and personal protection. The company specializes in environmentally sound shooting range equipment and safe indoor- and outdoor-shooting facilities.
The agreement between TWB Designs and MED A/S was brokered by North Loudoun Corporation of Calgary, Alberta (http://www.NorthLoudoun.com). NLC promotes Canadian exports in the U.S. and abroad, and has represented TWB Designs since 2011. "This is a great step forward for both TWB Designs and MED," said Ernest Troth, president of NLC. "Having expert sales representation on-the-ground in Northern Europe will provide significantly expanded opportunities for TWB Designs."
For additional information about the eMACS and related products:

For sales in Canada, contact TWB Designs, http://www.TWBDesigns.com, tel: 1-905-977-9899, or email Tom(at)TWBDesigns(dot)com.
For sales in the Nordic and Baltic states, contact MED A/S, http://www.Medas.DK, tel: +45 5943 0300 or email Info(at)medas(dot)dk.
For worldwide sales and product information outside Canada and northern Europe, contact North Loudoun Corporation, http://www.NorthLoudoun.com, Ernest Troth, 1-877-313-5292 (voice, fax) or email: ETroth(at)NorthLoudoun(dot)com.