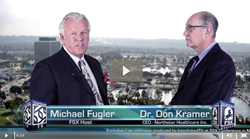 ...in terms of picking one's surgical center vs. another with which they can partner, Northstar has done a great job of showing the surgeons that we are uniquely positioned to help drive their revenues through our consumer marketing programs.
(PRWEB) December 05, 2013
Northstar Healthcare was one of the presenting companies interviewed at the recent FSXinterlinked Investment Conference, held at the Ritz Carlton in Marina Del Rey, California.
During the interview Dr. Don Kramer, CEO of Northstar Healthcare Inc. and an anesthesiologist with more than 25 years experience working on outpatient surgical centers said, "Surgery centers are essentially work places for surgeons. We are a support company. We provide surgeons with great facilities, with highly productive throughput, so that the surgeons can get more done in less time, they know who their staff is and they realize that their cases will never get bumped for emergencies like they may in a hospital. So for surgeons, working in an out patient surgical facility is preferred and in terms of picking one's surgical center vs. another with which they can partner, Northstar has done a great job of showing the surgeons that we are uniquely positioned to help drive their revenues through our consumer marketing programs."
Dr. Kramer added, "We give surgeons two ways to make more money when they partner with Northstar. The first is through their ownership or contracts with our surgical facilities where they get to share in the technical fee that is generated when their patients have surgery at an outpatient center. And the second way is that Northstar drives large numbers of patients into the offices of surgeons."
There are 325 surgical centers in Texas and about 60% of those are independent of an institutional partner or a hospital. Dr Kramer stated that Northstar is currently evaluating a fairly significant book of opportunities in Texas and beyond and it's their expectation that they will start a strong acquisitions program in 2014.
The interview was conducted by FSXinterlinked Investment Conference Host, Michael Fugler, and is available on the FSXinterlinked channel on InterlinkedTV.
More information is available at Northstar's Public Profile on Interlinked's Global Investment Community, where you can contact them to learn a bit about the surgical center industry, what it is that Northstar does, and about their growth as a public company.
About FSXinterlinked Investment Conference
FSXinterlinked is the premier investment conference organization in the United States. Founded as Financial Services Exchange (FSX) in 1983, it is a national organization comprised of independent FINRA broker/dealer firms and private equity fund managers. With quarterly investment conferences hosted throughout the U.S., FSXinterlinked creates a forum for emerging growth companies seeking capital to present to a nationwide network of financial investment professionals. For more information, visit http://www.fsxinterlinked.com.
Interlinked is a global investment community of accredited investors, emerging growth companies, and resource partners. Interlinked offers an efficient way for companies to maximize exposure and access a private network of funding sources and verified service providers. For investors, Interlinked provides a secure environment to find, vet and engage companies, and communicate with members. Interlinked gives members exclusive access to a proprietary investment platform, which integrates virtual data rooms, video news, a service provider marketplace, an event directory, and customized marketing services, including email marketing, video production, public relations and more. For more information, visit: http://www.interlinked.com.
Safe Harbor Statement
This press release may contain information that constitutes forward-looking statements made pursuant to the safe harbor provisions of the Private Securities Litigation Reform Act of 1995. All statements, trends, analysis, and other information contained in this press release, including words such as "anticipate," "believe," "plan," "estimate," "expect," "intend," and other similar expressions of opinion, constitute forward-looking statements. Any such forward-looking statements involve risks and uncertainties that could cause actual results to differ materially from any future results described within the forward-looking statements. Risk factors that could contribute to such differences include those matters more fully disclosed in the Company's reports filed with the Securities and Exchange Commission. The forward-looking information provided herein represents the Company's estimates as of the date of the press release, and subsequent events and developments may cause the Company's estimates to change. The Company specifically disclaims any obligation to update the forward-looking information in the future. Therefore, this forward-looking information should not be relied upon as representing the Company's estimates of its future financial performance as of any date subsequent to the date of this press release.