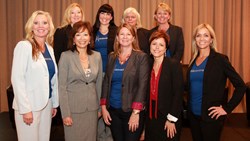 Today, there are still too many women around the world facing an impenetrable glass ceiling which restrains them from participating fully in every aspect of life, not just business.
Tampa Bay, FL (PRWEB) December 09, 2013
Research shows that businesses with more women in authoritative roles experience increased success (1)—a reality that the Clearwater Regional Chamber of Commerce(CRCC) recently took notice of when it formed a women's networking group entitled AchieveHERs. AchieveHERs held an inaugural luncheon at Ruth Eckerd Hall on Thursday, November 7, the CRCC's largest inaugural event to date. The luncheon attracted 300 attendees, including Mayor George Cretekos, Belleair Bluffs City Commissioner Suzy Sofer, Clearwater City Commissioner Karen Williams Seel, and Dunedin City Commissioner Heather Gracy.
Over the past decade, studies have demonstrated that a direct correlation exists between women in management positions and a company's prosperity, meaning that organizations with more women in senior leadership roles benefit from a higher profit margin (2). Despite the apparent benefits of women at the top of the company food chain, women's pay is only 77% of men's, leaving them at a hefty disadvantage (3). AchieveHERs, which seeks to provide an opportunity for women to collaborate and exchange business tips and experiences, has responded to this inequality by creating forums in which women can discuss the necessary vehicles needed to reach high leadership roles. The AchieveHERs luncheon, which was open to both current and striving businesswomen, featured keynote speaker Fawn Germer at its inaugural luncheon. Germer, an executive coach, Oprah Book Club author and four-time Pulitzer Prize-nominated journalist, moderated a panel discussion with three of Tampa Bay's most prominent women in business:
●Holly Duncan—President Emeritus, Morton Plant Mease Foundation;
●Nancy Ridenour—Shareholder, PDR Certified Public Accountants; and
●Judy Mitchell—Former President and Owner, Peter R. Brown Construction.
Each of the women shared major hurdles they faced while on the path to success. Fellow guests, women from several industries and walks of life, facilitated dialogue with the speakers about the obstacles faced for women in business, and also shared personal stories of their trial and tribulations. The success of the event led to rave reviews:
"What a wonderful luncheon! The speakers were fantastic and it is great to live in a time where we can empower and support each other. Thank you to all who were involved in making today happen!" ~Maria Nichols
"Thank you for hosting this awesome lunch! I was inspired, affirmed, encouraged and excited by all the stories from real women who I could relate to in many aspects: where I've been, where I'm at and where I want to be. Looking forward to being part of this incredible group!" ~Jen Carlisle
"Great event, great advice—thank you AchieveHERs Founding Members for making it possible!" ~Brigitta Johnson
"Today, there are still too many women around the world facing an impenetrable glass ceiling which restrains them from participating fully in every aspect of life, not just business—which, in turn, holds back our nation as a whole," said Karla Jo Helms, AchieveHERs' PR chair. "One of our greatest challenges today is helping women to break through those ceilings, once and for all."
Helms says that AchieveHERs will continue its mission of creating opportunities for women who are looking to overcome obstacles and increase their competitive edge as businesswomen.
AchieveHERs would like to thank its sponsors: Bright House Networks, Tampa Bay Times, Hyatt Regency, Power Design Inc., Johnson Pope, Morton Plant Mease Foundation, JoTo PR, ProVise Management Group, LLC, Clearwater Gas System, Hill Ward Henderson, Sun Country Cleaners, Radiance Med Spa, Abe's Place, Total Title Solutions and Cody's Original Roadhouse Belleair Bluffs.
For more information about the AchieveHERs, please visit http://www.achievehers.org.
About AchieveHERs:
To meet the demand of businesswomen in the Clearwater region, AchieveHERs was established under the auspices of the Clearwater Regional Chamber of Commerce to be a regional leader providing camaraderie, support, networking opportunities and valuable new insights to women in business. AchieveHERs will provide impactful quarterly events that share insight, ideas, skills and success stories to ultimately help women overcome obstacles to their success. AchieveHERs is open to both established women in business and those aspiring to lead. For more information or to inquire about membership or attend events, visit their Facebook page at http://www.facebook.com/AchieveHers or their website at http://www.achievehers.org.
1.Cueto, Emma. "Women in Business Are Really Good at It, And Here Is Proof." Bustle.com. N.p., 24 Oct. 2013. Web. 25 Oct. 2013. bustle.com/articles/7501-women-in-business-are-really-good-at-it-and-here-is-proof.
2.Wallace, Kelly. "What Changes with Women in the Boardroom?" CNN.com. Cable News Network, 23 Oct. 2013. Web. 25 Oct. 2013. cnn.com/2013/10/23/living/identity-women-management/.
3.Morello, Carol, Peyton Craighill, and Scott Clement. "More People Express Uncertainty in Chance to Achieve the American Dream." Washingtonpost.com. The Washington Post, 28 Sept. 2013. Web. 30 Sept. 2013. washingtonpost.com/local/more-people-express-uncertainty-in-chance-to-achieve-the-american-dream/2013/09/28/d8e99084-260e-11e3-ad0d-b7c8d2a594b9_story.html.