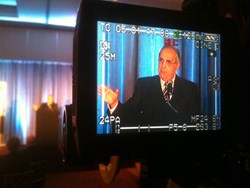 "These packages make it easier than ever to create a tailored solution for a client's unique needs." - Mark R Smith, Owner and Creative Director, Absolute Vision Productions
Chicago, IL (PRWEB) December 05, 2013
Absolute Vision Productions, a Chicago-based media and production company, announced today new all-inclusive packages for corporate event documentation. Based on continued requests for complete event services, Absolute brings the same high-end documentation known to clients across the midwest to live event planners at an unmatched value.
The packages, available via free quote through Absolute Vision, are meant to serve as a one-stop solution for event camera and photography needs, especially for out-of-state clients who are seeking a professional connection to the Chicago market. Absolute is capable of simultaneously fulfilling photography, videography, and on-site interview needs, as well as providing optional livestreaming solutions and HD deliverables.
Absolute works with event planners, media groups, agencies, and directly with clients to develop a value-oriented solution, no matter the venue. Packages are customizable and scalable to client needs, ranging from a single camera plus operator, to multiple cameras with full crew including live switch and on-site editing. One-night and multi-day services are also available. This comes with Absolute's proven track record of fifteen years capturing memorable events at venues in Chicago, Schaumburg, Naperville, Oakbrook, and others throughout the Chicagoland area. With strong relationships in a number of event spaces, hotel properties, and convention centers, Absolute can cut through red tape in a way few local production groups can.
"Live events are a cornerstone of what we do at Absolute," said Mark Smith, owner and creative director for Absolute Vision. "These packages make it easier than ever to create a tailored solution for a client's unique needs."
In addition to live event services, Absolute remains one of Chicagoland's top choices for corporate and creative media. With a portfolio of work spanning dozen of industries and mediums, including animation, HD web content, 3D projection mapping, and remote location production, Absolute is a trusted partner to Chicago's business and event community. For more information or to speak to a member of the Absolute team, email info(at)AbsoluteVisionProductions(dot)com.
About Absolute Vision Productions:
Absolute Vision Productions is a Chicago-based media and production company, and part of the Absolute Vision Media Inc. creative group. Whether for agency-style media, professional video production, local production crew, or general marketing and advertising, Absolute offers national-level experience with local connections and know-how for corporate, educational, commercial, and creative purposes. To learn more, visit http://www.AbsoluteVisionProductions.com.