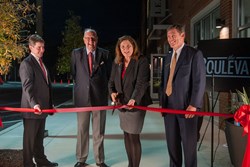 The Boulevard attracts specialty retailers, restaurants and services, such as Southern Season ... to establish a pedestrian core, making Mt. Pleasant an attractive and unique destination on its own. - John Darby, President and CEO, The Beach Company
Mt. Pleasant, SC (PRWEB) December 06, 2013
The Beach Company celebrated a major milestone in the Coleman Boulevard Revitalization plan at The Boulevard Grand Opening, December fifth. The Boulevard, a mixed-use apartment and retail community at 725 Coleman Boulevard, officially opened on Thursday.
Mt. Pleasant Mayor Linda Page cut the ceremonial ribbon, joined by members of the Coleman Revitalization Advisory Board (CRAB), representatives from several East Cooper charities and Charlie Way, Chairman, and John Darby, President and CEO of The Beach Company.
In honor of the auspicious occasion, and in keeping with The Beach Company's dedication to improving the quality of life East of the Cooper River, The Beach Company presented three local philanthropic organizations with contributions to support their causes. East Cooper Community Outreach, East Cooper Land Trust, East Cooper Meals on Wheels were recipients attending the celebration.
John Darby thanked US Bank, JHP Architecture + Urban Design, SeamonWhiteside Associates, Balfour Beatty Construction, Gulf Stream Construction, DesignWorks, Terracon, GDC Home, Robin Rogers Interiors, Blue Ion, the Town of Mount Pleasant for their many contributions to this achievement. He acknowledged the leadership of Eric DeMoura and the Coleman Revitalization Advisory Board for their vision for a vibrant downtown corridor in Mt. Pleasant.
The Boulevard has established a number of "firsts" for Mt. Pleasant. "The development has Mt. Pleasant's first parking deck, its first workforce housing, and Coleman Boulevard's first on-street parking," according to John Darby, President and CEO of The Beach Company.
The Boulevard also represents the largest capital investment on Coleman Boulevard. "A project like The Boulevard attracts specialty retailers, restaurants and services, such as Southern Season, Maverick Southern Kitchens, and Stox Day Spa to establish a pedestrian core, making Mt. Pleasant an attractive and unique destination on its own," said Darby.
About The Beach Company: The Beach Company has been a leader in residential and commercial real estate brokerage, development and property management for more than 65 years. Founded in Charleston in 1945, the company honors a tradition of responsibility and excellence in providing top quality real estate products and services for communities, businesses, industries, and most importantly families across the Charleston Lowcountry and the Southeast Region. For more information on The Beach Company, please visit http://www.TheBeachCompany.com.