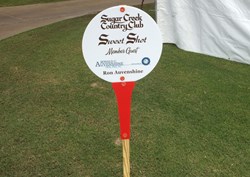 "My older brother taught me how to play golf at age 12," said Dr. Auvenshine.
Houston, Texas (PRWEB) December 18, 2013
Golfers got to enjoy this year's Sweet Shot Member Guest Tournament at Sugar Creek Country Club thanks in part to MedCenter TMJ. Dr. Ronald C. Auvenshine DDS and his team sponsored a hole during the local tournament, which was also a celebration that showcased the newly renovated Trent course.
MedCenter TMJ often gives back to local organizations whenever possible, and the annual tournament is an event that Dr. Auvenshine himself enjoys participating in. "My older brother taught me how to play golf at age 12," said Dr. Auvenshine. "He put together a set of old clubs, most of which had wooden shafts, and that's what I learned to play with. We've come a long way over the years, but for the last 14 years my brother as been my team partner at the Sugar Creek Member Guest Tournament." Dr. Auvenshine is very familiar with the Sugar Creek organization having served as president of the Men's Golf Association for the year of 2011.
The four-day golf and tennis tournament is a family event for many of the participants. Members and guests enjoyed two days of competitive play that ended with an awards ceremony to honor the top athletes.
To learn more about Dr.Auvenshine and the MedCenter TMJ, please visit: http://www.medcentertmj.com/.
About MedCenter TMJ
At MedCenter TMJ Dr. Ronald C. Auvenshine and his team of medical professionals are helping patients that suffer from orofacial pain and temporomandibularjoint disorders find relief. For more than 35 years Dr. Auvenshine has focused his practice solely on providing specialized treatment for craniomandibular disorders in order to give his patients the best care possible for their unique needs. Before opening his own private practice Dr. Auvenshine worked as a dental officer in the United States Army and as a faculty member at LSU School of Dentistry in New Orleans where he founded the Temporomandibular Joint (TMJ) and Facial Pain Clinic at the LSU School of Dentistry.