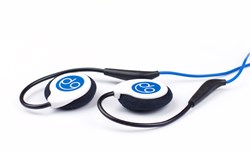 15% thinner than the original.
New York, NY (PRWEB) December 05, 2013
After over a year in development, Bedphones, inventor of the world's thinnest on-ear headphones, announces the release of its second-generation (and even-thinner) Bedphones on-ear sleep headphones.
With a 5.2mm body thickness, Bedphones (Gen. 2) are 15% thinner than the original, allowing for greater comfort while still maintaining the same exceptional sound quality. Available in both black and white, Bedphones now come with an optional inline microphone/single-button remote to allow users to play/pause/skip music tracks and even answer phone calls with one touch.
Bedphones are super-thin on-ear sleep headphones designed for maximum listening comfort in any situation. They sit on the ear and allow users to listen to music while drowning out noisy roommates, tinnitus (ringing in the ears), snoring sleepmates, loud city streets, and other disturbing noises. Their padded speakers are securely held in place by a rubber-coated memory wire that wraps around the ears to provide a customized fit.
Because Bedphones are so thin, comfortable and secure, they're ideal for travel (especially with a neck pillow), meditation, working out, action sports (they fit under most ski/snowboard helmets), bicycling (they won't block the noise of traffic) and office environments.
Bedphones are ideal for use with the Bedphones mobile app, created specifically to enhance the bedtime listening experience. The app provides users with motion, time, and touch-sensitive music control, including the ability to automatically shut off music when the user falls asleep. The Bedphones Music Controller is free, compatible with all headphones, and available for AndroidTM and Apple® iOS mobile devices.
Bedphones come with a complimentary travel case and satin sleep mask for $54.95 ($59.95 w/optional inline mic/remote) and are available from http://www.bedphones.com.
About the Creator: Bedphones are the brainchild of Eric Dubs, a product developer from New York with a passion for solving every-day problems. Dubs began his career as an engineer for a major defense contractor before quitting his job to follow his entrepreneurial endeavors.