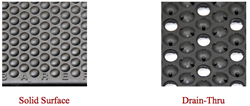 "Since using Barefoot Mats in our shop, we have had no further issues or complaints about back pain or fatigue from our employees. It has been a life changer for us!"
Lake Oswego, OR (PRWEB) December 13, 2013
Manufacturing facilities, machine shops, restaurants, and other work environments where employees must stand for a long period of time, have reported numerous medical conditions and safety concerns. Working in a standing position on a regular basis can cause sore feet, swelling of the legs, varicose veins, general muscular fatigue, and low back pain, stiffness in the neck and shoulders, and other health problems. These are common complaints among sales people, machine operators, assembly-line workers and others whose jobs require prolonged standing. Creative Safety Supply is now offering Oil Resistant Barefoot Nitrile Mats to ease the discomfort from standing in one spot for too long.
Even though OSHA has no specific rule or standard dealing with long periods of standing and the associated health concerns, OSHA does have the General Duty Clause that states employers have an obligation to protect workers from serious and recognized workplace hazards even where there is no standard. Employers must take whatever abatement actions are feasible to eliminate these hazards. An easy and affordable way to protect employees from physical harm by standing too long is through the use of Barefoot Mats.
These safety mats provide exceptional comfort and if the workplace is exposed to oil, Nitrile rubber is the way to go. These mats are made from quality blended Nitrile rubber with a high degree of oil resistance. They won't degrade when exposed to oil and grease and are available in a solid surface or drain-thru. Barefoot mats will retain its exceptional ergonomic performance for 8 years. Warranty is pro-rated from the time of purchase but does not cover misuse of product such as heavy forklift traffic, spiked shoes or lack of maintenance.
An owner of a car repair shop commented, "Since using Barefoot Mats in our shop, we have had no further issues or complaints about back pain or fatigue from our employees. It has been a life changer for us!"
For more information about Oil Resistant Barefoot Nitrile Mats, please contact Creative Safety Supply or call toll-free (866)777-1360 to speak with a professional representative.