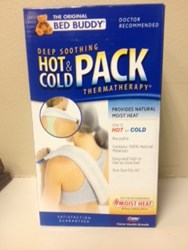 The Bed Buddy provides moist heat or can even be used as a cold pack. It's a very versatile, natural pain relief product. Our patients love it. - Dr. Ronald C. Auvenshine
Houston, Texas (PRWEB) December 23, 2013
MedCenter TMJ, a leading orofacial pain and temporomandibularjoint (TMJ) treatment center, will now be offering their patients Bed Buddy products as a solution for handling the side effects of their disorders. This comes after the center extensively researched the products and received positive feedback from those that tested out their effectiveness.
MedCenter TMJ's founder and lead physician Ronald C. Auvenshine DDS, PhD, PC had the opportunity to meet with Karen Sheilds, the Customer Service Manager for Carex Health Brands during a visit to Sioux Falls, South Dakota. There, he learned about the popular Bed Buddy hot and cold pack that's being used by patients around the country. Dr. Auvenshine explained, "The Bed Buddy provides moist heat or can even be used as a cold pack. It's a very versatile, natural pain relief product. Our patients love it."
The flexible tube-shaped Bed Buddy Hot & Cold Pack is filled with natural herbs and grains that are safe to be heated or cooled to provide relief for sore muscles and joint pain. Its unique design allows it to be used virtually anywhere on the body.
Since that initial meeting, Dr. Auvenshine and his team have built a relationship with Carex Health Brands and are excited to supply their patients with the company's latest products.
To learn more about Dr.Auvenshine and the MedCenter TMJ, please visit: http://www.medcentertmj.com/.
About MedCenter TMJ
At MedCenter TMJ, Dr. Ronald C. Auvenshine and his team of medical professionals are helping patients that suffer from orofacial pain and temporomandibularjoint disorders find relief. For more than 35 years, Dr. Auvenshinehas focused his practice solely on providing specialized treatment for craniomandibular disorders in order to give his patients the best care possible for their unique needs. Before opening his own private practice, Dr. Auvenshine worked as a dental officer in the United States Army and as a faculty member at LSU School of Dentistry in New Orleans where he founded the Temporomandibular Joint (TMJ) and Facial Pain Clinic at the LSU School of Dentistry.