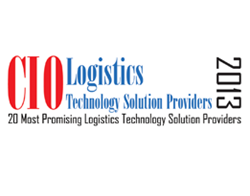 This is a great way to close out a year wherein our UltraShipTMS product and the dedicated team behind it was roundly praised by the media, analysts and arbiters covering the logistics, supply chain management and transportation industry.
Fair Lawn, NJ (PRWEB) December 09, 2013
Capping off a year of explosive growth and the capture of numerous, significant transportation industry awards, UltraShipTMS has been named to CIOReview magazine's annual list of Top 20 Most Promising Logistics & Freight Technology Solution Providers" for 2013. UltraShipTMS's flagship product – the UltraShipTMS transportation management system – has been gaining significant market share and has been boosted by the critical acclaim surrounding its LoadFusion Transportation Optimizer module which was named Transportation Product of the Year by the American Business Awards earlier in the year.
The SaaS-based TMS platform is featured in the December Logistics & Freight industry special edition of CIOReview. Through nominations and consultations with industry leaders, CIOReview editors chose the best in different domains including Enterprise Mobility, Enterprise Software and Cloud Computing. As a web-based TMS serving enterprise-level food shippers, product packaging manufacturers, retail/consumer products companies among other industries, Ultra exemplifies the type of solution provider this recognition seeks to promote. The recent run of accolades earned by Ultra further influenced the editors' choice to select UltraShipTMS for recognition.
CIOReview editors said, "We constantly endeavor to identify the best in a variety of areas important to tech business. In the last few months our editorial research team analyzed over 300 companies focused on offering technology solutions to the Logistics & Freight industry and at the forefront of tackling enterprise challenges."
President of UltraShipTMS, Nicholas Carretta remarked, "This is a great way to close out a year wherein our UltraShipTMS product and the dedicated team behind it was roundly praised by the media, analysts and arbiters covering the logistics, supply chain management and transportation industry. We're energized by the validation and looking forward to continuing to build upon this momentum into the New Year with ongoing innovations and industry-leading products and services."
About UltraShipTMS
UltraShipTMS offers award winning software-as-a-service solutions to leading shippers in food production, packaging, retail and other industries. UltraShipTMS and the LoadFusion transportation optimizer provide a single-source solution for optimization, transportation and settlement for in- and out-bound shipping across all modes of transport. Built and supported by a brilliant team of transportation industry veterans and software developers, UltraShipTMS is an emerging leader in the supply chain management industry. http://www.ultrashiptms.com