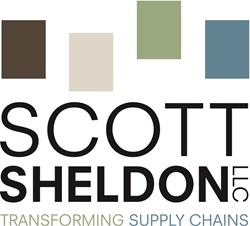 We believe supply chain improvements significantly contribute to company-wide savings, the ROI of our projects prove it.
Medina, OH (PRWEB) December 05, 2013
Scott Sheldon, and longtime partner, an International Healthcare Distributor*, partnered again to engage in a critical project in order to save two distribution centers that housed a blockbuster drug over $650,000 combined.
"The patent cliff is quickly approaching manufacturers of branded pharmaceuticals, some—such as this one in particular—are already experiencing generic erosion and need help finding savings now," stated Scott Spyker, President and CEO of Scott Sheldon. "We believe supply chain improvements significantly contribute to company-wide savings, the ROI of our projects prove it."
More details are in the full case study, on the company website; the following describes the project briefly.
Project Background:
Efficiency in their distribution center had eroded following the loss of a patented product when the generic equivalent became available. The DC had been built with a great deal of automation and was extremely efficient when operating at full capacity. Since the patent loss, however, it was operating much under capacity.
The "Ah Ha" Moment:
The Scott Sheldon team suggested looking beyond the single center to others where there might be redundancies and then identify ways to reduce those to improve costs.
Action Summary:
The Scott Sheldon engineers were able to find additional savings with a few more staffing adjustments in the distribution center. They found redundancies between the initial distribution center and another in the region that they knew could be eliminated with some proven supply chain improvements.
Result:
The customer was thrilled with the ROI of the project, a combined savings from the improvements at both centers of more than $650,000.
Spyker spoke proudly of his team, "When the evaluation of the first DC didn't reveal significant opportunities for savings, the Scott Sheldon team dug deeper until they found supply chain solutions sure to benefit the customer (referring to the second DC)."
About Scott Sheldon
Scott Sheldon, LLC is a global engineer of supply chain transformations across Healthcare & Life Sciences, CPG & Retail, and Manufacturing—and has been for over nine years. Their portfolio includes network optimizations, WMS implementations and clinical trial engagements for Multinational Healthcare Companies*, Pier 1 Imports, Rubbermaid and many other Fortune 500 companies.
*Due to confidentiality we do not disclose the names of our healthcare and life science customers.
###
PR120-ks