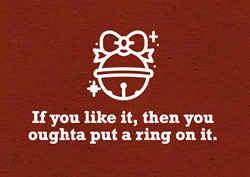 Baltimore, MD (PRWEB) December 05, 2013
Award-winning, integrated marketing agency idfive has launched an interactive campaign that will leave their clients' stockings empty, but their hearts full. Instead of a traditional holiday gift, the agency's clients received cards informing them that idfive had given their gifts to someone else—in their honor. That someone else? More than 100 people in the Maryland region.
To support the campaign, idfive created #BlingWithRing, a holiday website that's helping to raise awareness (and funds) for the Maryland Food Bank. Beyond fundraising, the site encourages visitors to do a little fun-raising. Each day, visitors can hang bells on unfortunate idfive staff members on behalf of their favorite organization. Each staffer will then have to wear their bells during the annual Jingle Bell 5K Run in Baltimore on December 14th.
In addition, #BlingWithRing features regularly updated content including real-time bell counts, e-cards, videos, and a donation tool that encourages others to give to the cause online.
"The holidays are a great opportunity for small businesses to give back," says EVP of Strategy, Andres Zapata. "We're thrilled to have the support, talent and resources that enable us to make real change during this special time, when too many go without."
To kick off the campaign, idfive donated enough money to feed 100 people in Maryland. Response so far has been tremendous with nearly 2,000 bells placed. Much to idfive web developer Nick Rigby's chagrin, he leads all staff members with nearly 1,400 bells at last count. At that rate, he'll run the 3.1-mile race shouldering nearly 30 pounds of bells. "I imagine this is payback for the War of 1812," remarked Rigby, a British transplant.
Interested in joining the fun? Visit http://www.idfive.com/bling-to-ring. Hang a bell. Make a donation. And tell a friend.
About idfive
idfive is an award-winning integrated advertising, branding, and web agency located in Baltimore. Founded in 2005, idfive helps clients throughout the United States solve impossible problems. Specializing in strategic marketing and web solutions for clients in higher education, not-for-profit and anyone else dedicated to making the world better, idfive brings an unparalleled level of expertise in brand discovery, audience research, and cutting edge technologies to its marketing strategies. The agency adheres to the principles of informed design, the philosophy that design threads through every facet of a solution—from visuals and code to strategy and engagement.
For more information on idfive go to http://www.idfive.com or contact Claire Cullen at claire (dot) cullen (at) idfive (dot) com.