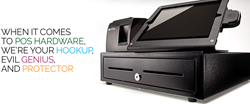 If our Point-of Sale hardware isn't working, we can't do business. POS isn't just important, it's critical to our success.
Sacramento, CA (PRWEB) December 04, 2013
POS Tablet (postablet.com) brings new thinking to Point-of-Sale leasing. In the past, merchants have been able to lease their Point-of-Sale systems but often these leases have come at great expense, unnecessarily locking merchants into long-term contracts and high monthly fees. With the advent of Tablet Based POS systems, the price of equipment needed to operate a full featured POS System has dropped dramatically but the ability to lease an iPad as part of the hardware bundle has not been available, until now.
Today POS Tablet offers businesses the ability to lease a complete Tablet POS system with an iPad for less than $50 a month. Qualifying for the lease is an easy 2-step process with most leases approved in less than a day. POS Tablet is also committed to new and expanding businesses. Where many leases require a merchant to be in business for three or more years, POS Tablet leases direct to merchants who are just getting started or expanding. For business looking to reduce their start-up costs, the POS Tablet lease comes with no down payment or initiation fees. In addition to receiving hardware at a low monthly cost, merchants who lease also receive free shipping and the protection of POS Tablet's SalesGuard© Protection Plan.
The 3 year plan covers all included hardware and means that business can expect next day delivery of a replacement device should anything go wrong. For many business owners, SalesGuard is the number one reason they choose the POS Tablet Lease. "Peace of mind is important, SalesGuard provides that. Not having to worry about something like your cash drawer breaking down is a huge relief," said Trevor Johnstone who owns and operates Johnstone Studios (johnstonestudios.com), a photography studio in Reno Nevada. "If our Point-of Sale hardware isn't working, we can't do business. POS isn't just important, it's critical to our success."
Hardware from POS Tablet works with the majority of POS software apps; including Square, PayPal, POS Lavu, Vend, Ambur, and Breadcrumb by Groupon. Merchants who lease through POS Tablet can choose from the most popular apps available and know that the equipment they get will work with whatever app they choose. "We've taken the guesswork out of figuring out what hardware goes with what app," said Anh Tran, Product Manager for POS Tablet. All hardware leased through POS Tablet ships quickly and arrives fast from distribution facilities throughout the continental US, typically delivering within 3-4 business days.
About POS Tablet
POS Tablet was born out of a deep understanding about what it takes to get hardware into the hands of merchants. For over 13 years, our parent company, POS Portal, has been busy deploying countertop credit card terminals to merchants across the globe. Working hard behind the scenes, POS Portal knows how to get the right hardware right where it needs to be, configured correctly, and delivered on time. Dual shipping facilities in Sacramento, CA and Louisville, KY ensure that delivery happens when it's supposed to and that replacement parts arrive fast. With POS Tablet, merchants get hardware directly from the source at great prices, with SalesGuard protection and low monthly payments that don't eat up cash, or limit business growth.