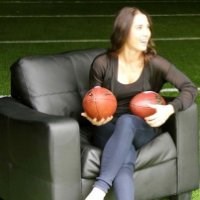 Here's to the girly-girls about to take Sunday by storm.
Denver, CO (PRWEB) December 06, 2013
The Sports Brat (http://www.TheSportsBrat.com) is officially up and running. Founder, Jessica Ceresino, saw an opportunity to speak to the girly-girls and non-sports fans about the social power and fun nature of all sports. In September, Jessica launched TSB with a focus on breaking down the game in a digestible format and pointing out the "talent" in sports, Jessica and her staff of writers have given female fans a destination for fun content, sports updates, tailgate recipes, game-day fashion tips and athlete interviews. In The Sports Brat's "10 Questions With..." section, they interview an athlete about all things non-sports related, helping the fans to really connect and identify with the athletes on a more personal basis.
Jessica explains her concept below:
I've heard it time and time again, "ugh [insert any male name] is so annoying, he totally doesn't pay attention to me when the [insert any sports team] is playing," or "I seriously can't handle that [again, insert any male name] cries every time his team loses." It's common, there 's this gap that can exist between gals and their man. And it doesn't stop there. Ever turned a corner in your office or walked into the break room and heard your colleagues talking about that "epic game" last night? Imagine being able to say, I" know I can't believe it went to 15 innings! What a game." Or perhaps you've been to Brother Jimmy's (or any other sports bar in the nation) and wished you could drop a casual line like "Go Alabama, Roll Tide" to the cute guy clearly rooting for Bama next to you at the bar. It really is the golden ticket.
Guys aren't giving up their passion, just like we're not expected to suddenly surrender our Bloomies card. So why not join em? It may sound silly, but game day can actually be super girly; there's outfit selection, cooking, cute guys, parties, tailgating, cute guys, booze, games, and oh yeah, CUTE GUYS! The Sports Brat offers all of these things to help you get through this sports season.
Whether you hate sports, you love them, or don't care either way; we hope to offer some guidance and at least some extra entertainment (cue the margs) for game day.
Here's to the girly-girls about to take Sundays by storm.
The url is http://www.TheSportsBrat.com. They are also on facebook (The Sports Brat), twitter (@_TheSportsBrat) and Instagram (@TheSportsBrat).
Please send all inquiries to info(at)thesportsbrat(dot)com.
###