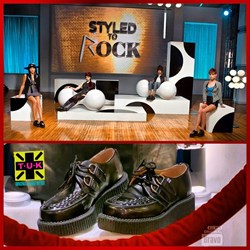 "One thing Carly really loves to wear are creepers and those have to be included in your design." – Alex Jillian (Carly Rae's Stylist), from the episode of Styled To Rock
(PRWEB) December 05, 2013
It was T.U.K. creeper madness on last week's episode of Bravo's newest competition series Styled to Rock from executive producer and fashion icon Rihanna. The designers were challenged to create the perfect 'off-duty' outfit for pop sensation Carly Rae Jepsen and a pair of T.U.K. Black Leather Mondo Creepers were required by the stylish star as a 'must have' for each ensemble.
Carly Rae and the winning 'Rock Star Off-Duty' look by Dexter Simmons, including the custom T.U.K. Creepers, were featured in the video shoot and article for Glamour Magazine.
More info and details on our blog HERE.
About T.U.K. Footwear
Since their start in 1991, the San Diego, CA based footwear company T.U.K. has been creating bold, original footwear for men and women. Footwear made for and inspired by bands, music fanatics, fashionistas, and individuals with eclectic tastes. With their huge range from traditional classics to modern upstarts they are constantly providing creative style with an original edge.