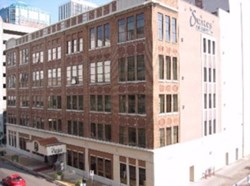 Des Moines, IA (PRWEB) December 06, 2013
Paramount Lodging Advisors (PLA) has just completed the sale of 800 Locust Hotel and Spa in Downtown Des Moines, IA. The 101-year-old building was the original home of the Des Moines Club and opened as a luxury boutique hotel in 2000. The hotel has 51 rooms, a restaurant lounge, a spa and fitness facilities. Senior Associate Adam Montufar exclusively represented the seller, Oakmoor Management Companies, Inc.
"The Suites of 800 Locust offers the only truly independent boutique lodging experience in downtown Des Moines. It is an iconic property, one that is very well-known and appreciated by the local community." Stated Montufar. "Unique assets of this caliber often require a specialized investor with experience in the independent space. We were very pleased to work with a buyer that understood the importance of the hotel's legacy and who is excited to better position it for continued success in the future."
A Minnesota-based owner and operator of boutique hotels, Rebound Hospitality of Northfield, was the buyer.
Paramount Lodging Advisors (PLA) is a hotel brokerage and advisory firm specializing in the sales of hospitality assets, debt and equity placement, as well as value and enhancement services across the United States. For more information about PLA, please visit http://www.paramountlodging.com/.