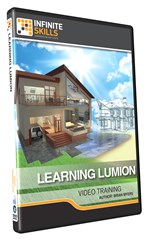 Learn Lumion 3D at your own pace.
(PRWEB) December 05, 2013
Software training firm Infinite Skills Inc. this week introduced its "Learning Lumion 3D Tutorial," an introductory course teaching essential skills and tools for using Lumion to create dynamic visual renderings of architectural designs.
Lumion makes it easy for designers to produce their own visual renderings of their work, allowing users to create images and movies of architectural designs, including elements like sky, water, plants, people, and natural and artificial lighting.
Infinite Skills' Learning Lumion 3D Video Training teaches new users how to use this powerful and intuitive software from start to finish.
Learning Lumion 3D Video Tutorial - Streaming
Course author Brian Myers is a virtual design and construction specialist with Penta Engineering, where he works with engineers to produce architectural renderings. A former residential designer, he also has extensive experience as a software application trainer, focusing on Revit and AutoCAD. He has been a technical editor for several design software publications and founded and currently manages the LinkedIn network Revit Users.
Here, Myers teaches students how to use Lumion by guiding them through the creation of scenes for two buildings, one commercial, and one residential, teaching how to develop the site with external elements, and how to create a scene.
The course begins with users learning how to start a project, and how to import and update a 3D model.
Working with the commercial design, Myers then explains camera placement and paths, working with materials in the 3D model, adding elements and other content, and creating lighting effects.
Myers then explores the residential design, showing how to add natural elements such as mountains, lakes, and rivers, and how to work with natural lighting. Lessons also include working with interiors, placing interior objects, and creating fire.
In this course, you'll learn how to use Lumion by completeing two projects, that were originally designed in Revit," Myers says. "You'll learn how to use Lumion to add wonderful details that, most importantly, will help you to communicate your designs through the software program."
Free demo videos and a full list of course contents can be found on the Learning Lumion 3D training page of the Infinite Skills website: http://www.infiniteskills.com/training/learning-lumion.html.
Infinite Skills offers its Learning Lumion 3D Training Video either as a DVD or a direct download from the company website at a retail price of $49.95. Though the compatibility of programs varies, all Infinite Skills titles and formats are compatible with both Mac and Windows operating systems, and shipping is available around the globe. Additionally, Infinite Skills tutorials are supported by project files which correspond to examples in the videos.
About Infinite Skills Inc.
A leader in the field of software training, Infinite Skills designs its courses on a task-oriented model, teaching complex skills by providing hands-on examples and guiding users as they carry out essential functions. Infinite Skills offers a wide range of software titles available as DVDs, digital downloads, and in iPad editions. Infinite Skills now offers a subscription service, providing access to all its training content for a monthly fee, keeping with company's aim of delivering professional training to customers anywhere they want to learn.