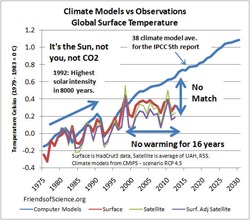 These low-carbon initiatives pushed by accountants are based on a faulty premise and faulty science.
Calgary, Alberta, Canada (PRWEB) December 05, 2013
Climate change and global warming initiatives have lead to a financially disastrous "Iron Triangle" of assumptions based on speculative and ideological climate science reports Richard Lindzen, Ph.D. in the Fall 2013 edition of the Journal of Physicians and Surgeons. This problem has spilled over into the world of accounting say Friends of Science.
Friends of Science are challenging the directive of the Association of Chartered and Certified Accountants (ACCA) that accountants should be directing client and investor choices toward a so-called 'sustainable economy.'
"This approach has lead to disastrous use of private and public funds world-wide," says Len Maier, president of Friends of Science.
A "Better Place" electric vehicle company was cited as a case study in successful 'sustainable' investment in the October 2012 report "Accountants for Business – Canada and the Green Economy." As reported by CBC Television May 27, 2013 Better Place went from an asset value of $2 Billion in 2012 to a bankruptcy value of $12 million by 2013. Some of Wall Street's expert investors lost a spectacular $900 million according to a May 28, 2013 report in the Wall Street Journal.
This past summer Siemens AG fired CEO Peter Loescher who had lead that German icon into a "Green Energy Disaster" taking the company "down a green energy hole" as reported in Investors.com on July 31, 2013 topped off with a 22% decline in shares since his take-over in 2007.
"The 2012 "Canada and the Green Economy" document gave accountants the heroic challenge of directing industry toward a sustainable future," says Len Maier, president of Friends of Science. "However the document's citations seem to rely on out-dated predictions, not current climate evidence."
While numerous organizations like the ACCA were gearing up to fight catastrophic climate change with accounting tools, global warming had already stopped by itself in 1998; something that has been reported since this April 9, 2006 science commentary in The Telegraph entitled "There IS a problem with global warming...it stopped in 1998" by Prof. Bob Carter, then of James Cook University.
Maier, a retired engineer points out that engineers face legal and professional liability if they engineer a structure that fails. "Accountants appear to get off scot-free," says Maier.
Several of the big accounting firms benefit from 'carbon market services' - doing carbon certification, GHG verification and audits.
Friends of Science point to a growing body of scientific evidence that the sun, not CO2 drives climate change. This Feb.08, 2012 interview outlines Fritz Vahrenholt's view in der Spiegel in Germany, once a fortress of 'green.'
"Carbon dioxide (CO2) has steadily increased but global warming stopped," says Maier. "Those low-carbon initiatives pushed by accountants are based on a faulty premise and faulty science."
New 3 year members of Friends of Science will receive a gift CD of original Bob Erlendson jazz (void where not permitted). International members please use PayPal or credit card only.
About the Friends of Science
Friends of Science have spent a decade reviewing a broad spectrum of literature on climate change and have concluded the sun is the main driver of climate change, not carbon dioxide (CO2). The core group of the Friends of Science is made up of retired earth and atmospheric scientists.
Contact:
Friends of Science Society
P.O.Box 23167, Connaught P.O.
Calgary, Alberta
Canada T2S 3B1
Toll-free Telephone: 1-888-789-9597
Web: friendsofscience.org
E-mail: contact(a)friendsofscience.org