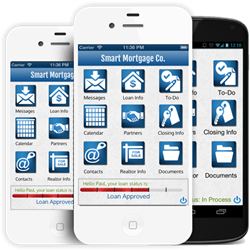 We (CMD) believe this will be an industry "game changer." Until now, the industry has experienced very archaic processes which has caused inefficiency across the entire mortgage process.
Boston, MA (PRWEB) December 06, 2013
EasyMortgageApps.com (EMALLC), headquartered in Boston, MA is pleased to announce it is now offering their private label Mobile App to lenders and mortgage loan companies throughout Canada. The first Canadian company to partner with EMALLC is Canada Mortgage Direct (CMD) out of Calgary, Alberta.
Easy Mortgage Apps mobile apps are engineered and designed to streamline the process of obtaining a home loan. The mobile app features real-time loan status updates, a communication channel and the ability to upload important loan documents to the lender. It is quickly becoming an indispensable tool used by lenders all across the U.S. and is now available in the Canadian market.
Easy Mortgage Apps LLC partnered with Canada Mortgage Direct as they understand the importance of utilizing the latest advances in technology to offer their clients and realtors a truly enhanced experience. CMD also recognizes we are in the midst of a paradigm sift and the implementation of a mobile strategy is a necessity. CMD's native app developed in partnership with EMALLC offers clients and realtor partners the ability to access their loan information 24 hours a day, 7 days a week from any location. CMD clients will be able to securely capture, upload and view important loan documentation with the touch of a finger. The transparent nature of the secure communication and data share improve time to close and allow for a more fluid process overall.
According to EMALLC spokesperson, Michael Kelleher, "We appreciate the opportunity to work with forward thinking companies like Canada Mortgage Direct. Early adapters to shifts within society are able to offer an unparalleled customer experience. In addition we believe this is an opportune moment to move into the Canadian market with our product. Our research shows lenders and their customers across Canada experience the same issues facing U.S. companies.
"We (CMD) partnered with Easy Mortgage Apps because we immediately recognized that the application they have created will simplify and enhance the customer experience for both our customers and business partners. We're extremely excited to begin our partnership with Easy Mortgage Apps and share their product across our entire organization." Says Tim Lacroix, Director – Canada Mortgage Direct.
"We (CMD) believe this will be an industry "game changer." Until now, the industry has experienced very archaic processes which has caused inefficiency across the entire mortgage process. With Easy Mortgage Apps, we are confident that this is a tool that will produce positive results and will give us a competitive advantage in an industry not known for technology.
The new app is free and available for download at either the iTunes App Store for iPhone or Google Play for Droid smart phones. Easy Mortgage Apps LLC (EMALLC) is a Massachusetts-based organization that builds today's best mobile apps for the mortgage industry and financial institutions.
About EasyMortgageApps.com
Easy Mortgage Apps LLC (EMALLC), located in Massachusetts, builds today's most innovative mobile apps for lending companies. As a leader in mobile technology for mortgage apps, they utilize many of today's most efficient features to give customers all the essential details they need to manage their loan app. Using Mobile Capture Technology, customers can upload documents to their lender and lenders benefit from drip marketing through push notifications. Their mobile apps now available to lenders throughout the U.S. and Canada.
About CanadaMortgageDirect.com
Canada Mortgage Direct is a mortgage brokerage based in Calgary, Alberta, Canada. By focusing on the service they deliver to their employees and customers, they have positioned themselves as a leading brokerage that aims to exceed their client's expectations.
For more information, please visit: http://www.easymortgageapps.com/.
Media Contact:
Michael Kelleher
Easy Mortgage Apps LLC
Toll Free: 888.987.6842
Canada Mortgage Direct Contact:
Tim Lacroix and Jeremy Nagel
Verico Canada Mortgage Direct Inc.
Contact: 403-250-2100