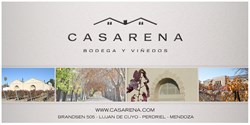 Sinergy...the ultimate in artistic expression for a winemaker.
Katonah, NY (PRWEB) December 05, 2013
In the November 30, 2013 issue of Wine Spectator Magazine, Casarena scored a pair of 91's from its popular Reserve line of reds. The 2011 Casarena Malbec Reserva is highlighted by Nathan Wesley as a Smart Buy, "...with hints of underbrush and leather accenting the dark cherry and roasted plum fruit, finishing with notes of cedar and licorice." The 2011 Casarena Sinergy Reserva Red Blend also scored 91 points. "This jammy red is offset with juicy acidity and an aromatic spice undertone, with candied cherry and dark plum notes".
Marcelo Waldheim, President of Casarena says, "Developing a quality line of Reserves takes time. Our very first vintage of Casarena was 2009. So to get that kind of validation from Wine Spectator for our 2011 Reserves is no small accomplishment. In fact, we believe that the quality continues to improve each and every year."
While it is no surprise to see quality Malbec coming out of Argentina, it is important to note that there is other quality juice hailing from Mendoza as well. Casarena's Sinergy is an Argentine Bordeaux-style blend, if you will: 70% Malbec, 20% Cabernet Sauvignon, 7% Cabernet Franc, and 3% Petit Verdot. Martin Perez Cambet, Export Manager for Casarena explains, "We are so much more than Malbec at Casarena, and offering a proprietary meritage blend like Sinergy enables us to communicate that directly to the consumer... the ultimate in artistic expression for a winemaker."
About Casarena Winery & Vineyards
Casarena is located in Lujan de Cuyo, Mendoza, Argentina, nestled into the foothills of the Andes Mountains at an altitude of over 3,000 feet above sea level. Referred to as the Primera Zona, Lujan is the first controlled appelation established in Mendoza... and is home to the most prestigious vineyards in Argentina. Our freshly renovated century old winery has a capacity of 900,000 liters to vinify the 400 acres of estate-owned vineyards of Casarena. http://www.casarena.com