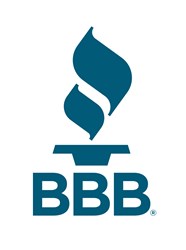 Los Angeles, CA (PRWEB) December 04, 2013
Better Business Bureau opened a new full-service office in downtown Los Angeles today, and the famous BBB torch symbol was symbolically passed to new leadership. BBB executives, Accredited Businesses and other distinguished guests celebrated its grand opening, cutting the ribbon on a new office in an historic building at 448 South Hill Street in the Pershing Square neighborhood, easily accessible to consumers and businesses via the Metro Red Line.
"Today is an exciting day; a day we have been anticipating for a long time" said Carrie Hurt, president and CEO of the Council of Better Business Bureaus (CBBB), the umbrella organization for 113 independent, nonprofit BBBs across the United States and Canada. "This convenient office opens a new era for BBB services to the consumers and businesses of the second-largest city in the country."
Hurt introduced three experienced BBB CEOs who have expanded their existing California territories to serve the Los Angeles area: Steve McFarland, president and CEO of the new BBB of Los Angeles and Silicon Valley (which now serves businesses and consumers in Los Angeles County); Sheryl Reichert, president and CEO of BBB of San Diego, Orange and Imperial Counties (which added Orange County to its territory); and Blair Looney, president and CEO of BBB Serving Central California and Inland Empire Counties (which now serves Riverside and San Bernardino counties).
Today's ribbon-cutting ceremony came eight months after the BBB system took over services to the Los Angeles area following expulsion of the former BBB of the Southland, based in Colton, for "recurrent failure to meet standards." The expulsion came at the end of a long, careful internal review process, but not before some embarrassing media stories pointed out the former BBB's questionable practices, such as accrediting businesses without proper vetting.
BBBs that do strictly follow required standards felt tainted by the problems of the former BBB. After the expulsion, they rallied to provide BBB services to consumers and businesses in the four-county area via a "virtual BBB" of some 100 volunteers from more than 40 BBB offices. Consumers could hardly tell the difference, as the virtual team processed complaints at a record-breaking pace and began re-accrediting businesses in the Los Angeles area. The virtual effort was so successful that it won a Summit Award from the American Society of Association Executives.
"The virtual team has done an amazing job," said McFarland. "We are honored to continue their excellent work, as well as present new programs that have never before been offered by BBB in Los Angeles." The head of the virtual effort, Steve Salter, VP of Standards and Services at CBBB, was on hand to MC the proceedings and to "pass the torch" (both figuratively and literally) to the three California leaders.
Two executives from local Chambers of Commerce were on hand to celebrate the new office and the new leadership: Gary L. Toebben, president and CEO of the Los Angeles Area Chamber of Commerce, and Soyoung Angie Park, representing the Los Angeles Korean Chamber of Commerce.
"BBB is an important resource for businesses and consumers in the community," noted Toebben. "We are especially pleased to have them as neighbors here in downtown Los Angeles."
McFarland said his office would be holding several new events in 2014, including a "Shred Day" (Protect Your ID Day) and a community blood drive, as well as launching programs such as BBB Military Line, which serves military personnel, veterans and their families, and BBB Smart Investing, which helps reduce investment fraud through education. He also said that the new office would be participating in the BBB Torch Awards for Marketplace Trust for the first time ever; the first awards will be given in 2015. Reichert and Looney are planning to expand their existing programs into their new territories, as well.
To handle the number of consumer inquiries and complaints, as well as vet new applicants for accreditation, process ad reviews, and handle arbitration hearings in the four-county area, the three BBBs are in the process of hiring 30 new staff members, some of whom will be based in the new offices and available for in-person assistance. Altogether, staffers will be able to assist in nine languages (English, Spanish, Russian, German, Tagalog, Portuguese, Vietnamese, Korean and Chinese).
The new office for consumers and businesses in Los Angeles County is:
448 South Hill Street, Suite 418
Los Angeles, CA 90013
Phone: 213-631-3600
Website: bbb.org/losangelessiliconvalley (active mid-December)
E-mail: info(at)LosAngelesSiliconValleyBBB(dot)org
Hours: Monday-Friday 9:00 a.m.-12 Noon and 1:00-4:00 p.m.
The new office for consumers and businesses in Orange County is:
500 North State College Blvd., Suite 1100
Orange, CA 92862
Phone: 800-600-7050
Website: bbb.org/sdoc active mid-December)
E-mail: info(at)sandiego.bbb(dot)org
Hours: Monday-Friday 8:00 a.m. – 5:00 p.m.
An Inland Empire office is planned for the future. In the mean time, consumers will receive assistance from the offices in Fresno and Bakersfield, and arbitration hearings will be held in several temporary locations in Riverside and San Bernardino counties.
About BBB
For more than 100 years, Better Business Bureau has been helping consumers find businesses, brands and charities they can trust. In 2012, consumers turned to BBB 124 million times for Business Reviews on more than 4.5 million companies and Charity Reports on 11,000 charities, all available for free at bbb.org. The Council of Better Business Bureaus is the umbrella organization for 113 local, independent BBBs across the United States and Canada, as well as home to its national programs on dispute resolution and industry self-regulation.