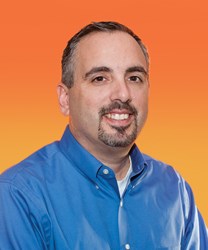 "Anthony brings to us a wealth of industry knowledge and a recognized passion about patient education and engagement in healthcare..." - Roy Broadfoot, President of HealthEd
(PRWEB) December 05, 2013
HealthEd announced the appointment of Anthony Marucci as vice president of marketing and business development. As a member of the senior management team, Anthony will oversee all aspects of the company's marketing and new-business activities. Also, he will spearhead HealthEd's growth through partnering with its client engagement team on new business opportunities. HealthEd - the leading patient engagement company - helps patients, industry organizations, and communities use innovative educational solutions to navigate healthcare.
"Anthony brings to us a wealth of industry knowledge and a recognized passion about patient education and engagement in healthcare, as well as an impressive resume," said Roy Broadfoot, president of HealthEd. "I am thrilled to see him as part of our team, and I look forward to more successes for the HealthEd companies."
Marucci joins HealthEd from Prime Access, the largest multicultural healthcare advertising agency, leading business development and public affairs efforts. Prior to this position, Anthony spent his career working in both pharmaceutical manufacturing and agencies, leading marketing, advocacy and business development efforts.
"I am excited about being part of a great heritage that spans 25 years as industry leaders for patient engagement," said Marucci. "What we do here is not duplicated in the industry, and we are constantly innovating to meet the ever-changing demands that our clients face."
About HealthEd
Headquartered in New Jersey, HealthEd has for 25 years been strategic consulting and educational program development partner for biopharmaceutical manufacturers, patient advocacy organizations, and major medical centers. We are committed to a healthier world by providing action-oriented solutions for clients in elevating knowledge, dialogue, and understanding for patients and their health. We do this by understanding people's health concerns deeply, and we solve their problems through health education, creating positive business results for clients by improving outcomes. HealthEd also supports healthcare professional learning through its SurroundHealth online community.
Contacts
Anthony Marucci at 908-379-2037.
Follow us on Twitter, Facebook, Pinterest.