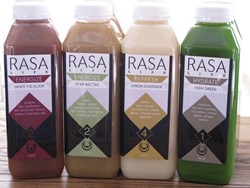 We look to the abundance of fruits and vegetables available each season to create the most balanced and tuned-in whole foods experience for you.
New York, NY (PRWEB) December 05, 2013
RASA LIFE, a NYC-based holistic nutrition organization, is now offering their Elixirs for purchase at hair salon, Suite 303, located at 7 Bond Street in Manhattan.
The line of whole food-packed Elixirs consist of a variety of blended soups and tonics that support consumers to align their mind, refine their palate and tune into their vitality from the inside out; which is exactly what RASA LIFE as a whole is on a mission to provide.
The Winter 2013 Elixir Blends that are offered at Suite 303 are:
-High Green: romaine, spinach, parsley, cucumber, celery, apple, ginger and lemon
-Pear Nectar: pear, fennel, celery, ginger-cardamom tea, vanilla, raw honey and Himalayan salt
-Winter Fruit Elixir: summer harvest strawberries, hibiscus- cardamom tea, raw honey, blood orange and pomegranate
-Cacao Dream-The Suite 303 Signature Smoothie: almonds, banana, raw cacao, almond butter, dates, vanilla and cinnamon
Each Elixir is handcrafted by RASA LIFE owner, Christine Ambrosino, with seasonal fruits and vegetables along with a variety of herbs and spices that enhance the nourishing qualities of the chosen ingredients. Eliminating chemicals and unnecessary harm to the body, the Elixirs feature organic and locally grown produce as often as possible and the super foods and herbs are all sourced from fair trade suppliers.
As the seasons change, so do the Elixirs, guaranteeing the freshest, most ripe ingredients in every bottle. "Each season offers a new opportunity to check in and see how you can align the body-mind-spirit with the season ahead," said Christine Ambrosino. "We look to the abundance of fruits and vegetables available each season to create the most balanced and tuned-in whole foods experience for you."
In addition to the customized Elixir cleanses, RASA LIFE and Christine Ambrosino offers weekly botanical cuisine menus, private chef services, food preparation classes, kitchen evaluation, holistic lifestyle consultations and yoga instruction; for more information, please visit http://rasalife.com/.
About RASA LIFE and Christine Ambrosino, ERYT, HHC:
NYC-based, RASA LIFE is the ultimate resource for recipes, daily inspirations, workshops, retreats and products that help create nourishment a daily lifestyle practice. Christine founded RASA LIFE and RASA Holistic Arts Studio to share her love of natural healing arts, which she has been a practitioner and student of for over 25 years. Over the last 15 years, she has been guiding people on their own journey toward well-being through the arts of hatha yoga, conscious eating and bodywork. Through RASA LIFE, Christine offers customized elixirs, cleanses, weekly meals, cooking classes/workshops and much more. To learn more about Christine and RASA LIFE, visit http://www.rasalife.com.