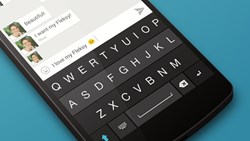 San Francisco (PRWEB) December 05, 2013
Fleksy, the future text input company, today launched the Android version of its virtual keyboard out of beta on Google Play. The company also released a new Android app in beta to support new languages, as well as released a major iOS update in its race to be the first third-party keyboard on the Apple platform.
Available on Google Play for $3.99 with a 30-day free trial, Fleksy lets individuals type faster than any other virtual keyboard by not having to concentrate on hitting specific keys that are often too small for their fingers. Through a set of patent-pending Artificial Intelligence algorithms, Fleksy looks at the relative locations its users touch the screen, and interprets the word they want to type. This approach frees users to type without having to look at the screen, ultimately letting them type faster than they would otherwise. This unique approach is what allowed Fleksy to be the first virtual keyboard to work on a smartwatch, the Omate TrueSmart, which has an even smaller touchscreen surface area than smartphones.
Fleksy also released today a new version of its Android beta that supports new languages. Additionally, Fleksy made a recent update to its iOS app in preparation for the upcoming Fleksy SDK release. The new update includes a faster engine, new user interface and an option to minimize the keyboard or have it completely invisible. The upcoming SDK release will allow iOS developers to implement Fleksy in their app, allowing users to replace the standard iOS keyboard for the first time.
"When we started Fleksy we wanted to bring the best typing experience to all smart devices with a touchscreen," said Kosta Eleftheriou, Fleksy founder and CEO. "Our team has been working extra hard to get to this moment. Exiting beta, launching the new languages and preparing for our iOS SDK puts us in a great position to accomplish our vision on both Android and iOS."
Fleksy can be downloaded on Google Play here and the App Store here. Individuals interested in joining the Android beta to test the new languages can do so here. Developers interested in learning more about Fleksy's SDK should contact the company here.
About Fleksy
Fleksy revolutionizes typing on smart devices through patent-pending predictive text technology that works on all device sizes. Fleksy is the first keyboard app to be demonstrated on a 3D gesture system (Leap Motion); the first to be demonstrated on a smartwatch (Omate) and the first to arrive to iOS. Fleksy's award-winning design and technology is backed by venture capital firms like Highland Capital Partners and Kleiner Perkins Caufield & Byers.
Press Contact:
Hadara Alook
hadara(at)fleksy(dot)com
press.fleksy.com