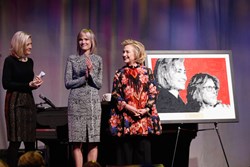 New York, NY (PRWEB) December 04, 2013
Tuesday night, the Elizabeth Glaser Pediatric AIDS Foundation (EGPAF) honored Former Secretary of State and U.S. Senator Hillary Rodham Clinton with their Global Impact Award for her extraordinary legacy of leadership and courage in the fight against HIV/AIDS.
EGPAF President and CEO Charles Lyons addressed the crowd of more than 300 philanthropists, corporate leaders, and advocates all dedicated to creating an AIDS-free generation. "To date, more than 1 million babies have been born HIV-free through the U.S. President's Emergency Plan for AIDS Relief," said Lyons. "One quarter of those healthy births occurred because of the support of the Elizabeth Glaser Pediatric AIDS Foundation."
Nigel Barker, world-renowned photographer and host of Oxygen's "The Face," served as the event's emcee, and actresses Julianna Margulies, Gloria Reuben, and Mary Steenburgen delivered readings from Elizabeth Glaser's book, In the Absence of Angels: A Hollywood Family's Courageous Story. Following Sec. Clinton's remarks, multi-platinum-selling, two-time Emmy and five-time Grammy award-nominated recording artist Michael Feinstein and his 17-piece big band performed songs such as "Luck Be a Lady," and "The Way You Look Tonight." The cast members and band from the Tony Award-winning Broadway musical Fela! also performed earlier in the evening.
Elizabeth Glaser cofounded the Pediatric AIDS Foundation in 1988 with her friends Susie Zeegen and Susan DeLaurentis, shortly after losing her daughter Ariel to AIDS. Elizabeth unknowingly contracted the disease from a blood transfusion during her pregnancy and also passed the disease to her son, Jake in utero. Cofounder Susan DeLaurentis spoke last night and introduced a video of Sec. Clinton with Elizabeth titled Two Women Two Mothers Two Leaders. Elizabeth's surviving son Jake also spoke onstage about his mother and the incredible legacy of her foundation, which has reached more than 17 million women with services to prevent transmission of HIV to their babies. "Achieving an AIDS-free generation is now our primary goal, one that we know we can accomplish. There can be no excuses: we have proven the science; we have proven the results; now we need to make this vision a reality," said Glaser.
Guests in attendance included: Hillary Rodham Clinton, Julianna Margulies, Mary Steenburgen, Gloria Reuben, Nigel Barker, Diane Sawyer, Willow Bay, Charles Lyons, Miss Universe Gabriela Isler, Peter Asher, Robert & Cortney Novogratz, Fátima Ptacek , Tom Murro, Sasha Cohen, Michael Feinstein, Jake Glaser, Susan DeLaurentis, and more.
To view images from the event, please follow this link to our Getty Image gallery: http://bit.ly/190P7DZ.
About the Elizabeth Glaser Pediatric AIDS Foundation (EGPAF):
EGPAF is a global leader in the fight against pediatric HIV/AIDS, and has reached more than 17 million women with services to prevent transmission of HIV to their babies. It currently supports more than 6,800 sites in 15 countries to implement prevention, care, and treatment services; to further advance innovative research; and to execute global advocacy activities that bring dramatic change to the lives of millions of women, children, and families worldwide. For more information, visit http://www.pedaids.org.