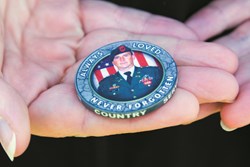 Mt. Pleasant, SC (PRWEB) December 05, 2013
In the small town of Mt. Pleasant, South Carolina, just outside of Charleston, friends and family gathered in November to honor a fallen Special Forces hero, Capt. Richard G. Cliff Jr.
It's been six years since Army Special Forces Capt. Richard G. Cliff Jr. lost his life in Afghanistan while assigned to the 7th Special Forces Group. The 29-year old was one of three men killed when their military vehicle encountered an improvised explosive device. He left behind a young wife, Stacey and newborn son, Richard.
Richie, as he was called by his friends, was an outgoing person. From a very young age, Richie was undoubtedly the most popular guy in his social circle. He was a superior athlete with a vivacious personality that drew people into his circle. It was a combination of charismatic personality and natural born leadership ability that helped him excel in his military career. What his friends and family found to be uncanny was Richie's knack of bringing all of his circles of friends together – whether they were friends in high school, college or military, Richie merged all of his circles of friends into one big family.
"Everyone says how weird it was how he was able to bring all of his friends together. Where ever we went, he invited his whole circle together to meet," said surviving spouse, Stacy Cliff. "This weekend is very fitting, because he always brought everyone together."
The idea of holding an annual golf tournament and social event turned into the Capt Richard Cliff Memorial Golf Tournament. But the event is much more than a golf tournament, it is the reunion of the many friendship circles from Richard Cliff's life, including high school friends, college classmates, and military teammates.
"This means the world to us because it is an opportunity for all of Richie's friends from high school and college and military to get together to honor him and hear stories about how he has touched their lives," said Rich Cliff Sr.
Adam King, director and founder of the Capt. Richard Cliff Memorial Golf Tournament, met Richie while they were in grade school and have been friends ever since. The two stayed close even after Richie joined the military.
"He was one of those people who challenged me physically and mentally," said King. "He made me a better person." King is one of three Wando High School graduates that put on the tournament.
Fellow tournament director, Jared Alverson, was on the soccer team in high school with Richie. He described his friend as a jock who always wanted to make people smile.
"Richie is one of the best people I have ever known," said high school friend, Jared Alverson. "He is one of those guys who walk into a room, and his character alone makes everyone smile."
One of the family's most precious memory is watching holding his newborn son. Richie's commander at the time, Brig. Gen. Sean Mulholland, described to the attendees at the event his policy to try to make sure expecting fathers could be home to welcome their children into the world.
He described how he had a wall in his command office in Afghanistan where he posted the photos of the fathers with their newborn children.
Capt Richie Cliff was killed just a few weeks after reporting for duty in Afghanistan.
"He was the proudest father that I have ever seen," said childhood friend, Adam King. "Knowing his son will receive a college education through the Special Operations Warrior Foundation makes me proud to be part of this event."
Prior to deploying, Capt Richard Cliff updated his will to indicate that he wanted donations to go to the Special Operations Warrior Foundation. That was the first time is wife had heard about the foundation.
As it has for more than 1,000 children of fallen special operations warriors, the Special Operations Warrior Foundation will make sure Richie, who is five years old, will get a college education. The foundation provides funding for tuition, books, fees, room and board as well as computer and printer.
"Knowing that our son will be able to graduate from college without any kind of debt is a blessing," said Stacey, who is currently taking post-graduate classes for a degree in nutrition.
To date, the Capt. Richard Cliff Memorial Golf Tournament has raised over $75,000 for the Special Operations Warrior Foundation.