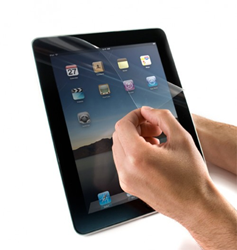 iGear unveils new high definition screen protector that is optimized for iPad Air's retina display. The clear screen protector film protects the iPad screen from scuff marks, scratches, and reduces fingerprints.
Chicago, IL (PRWEB) December 10, 2013
People are hard on their iPads, and with touch screens the screen takes a lot of extra wear and tear. iGear's new protector does everything the user could ask for it to do: protects the ipad screen from scuff marks and scratches, as well as repels dust and reduces fingerprints! Oftentimes for the benefit of added protection, ease of use on the touch screen is sacrificed. Users can rest assured because AccuTouch technology allows for a smooth touch screen that won't be a distraction to the user.
This screen protector is made from the highest quality PET film with ultra low-tac adhesive for bubble-free installation that ensures maximum resolution for Retina Display. In addition, the protector is completely invisible when properly affixed, and no residue is left behind when the film is removed.
Lastly, this screen protector comes with a Lifetime Replacement Guarantee so there really is nothing to lose. The protector is recommended for use with iGear Dura Tough Case and bundle pricing is available when purchased with an iGear iPad case.
The high definition screen protector can be purchased from iGear's website at https://www.igearunlimited.com/product/screen-protector.
About iGearUnlimited.com
iGearUnlimited.com is powered by Sunrise Digital, an Inc. 5000 company established in 1988 and employs the most advanced equipment and technology, such as G7-certified HP Indigo and UV flatbed presses, and digital die-cutting, to create best-in-class products. A privately-owned enterprise, the company is based in Chicago and sells products worldwide.