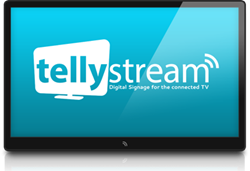 Tellystream set out to make digital signage simple and fun.
Oslo, Norway (PRWEB) December 11, 2013
Tellystream – digital signage for the connected TV – today launches its disruptive info screen software that allows direct play-out to multiple Samsung® consumer TVs.
With Tellystream™ companies can benefit from the advantages of an info screen or digital signage solution at a fraction of the cost of a traditional system. The software interfaces directly with Samsung consumer TVs over a local network needing no additional hardware. This makes setting up a digital signage system as simple as setting up a home TV. In addition these screens are stylish, inexpensive and have wireless networking built-in.
Designed for companies, schools, universities, pubs, sports venues, shops and many more, Tellystream allows customers to reach their target audience with the right content in near real-time – at a very low cost and with no technical expertise required.
"Tellystream set out to make digital signage simple and fun. In many situations it is difficult to judge what the ROI (return on investment) for a digital signage project will be. Therefore we decided to make the investment truly negligible resulting in a positive return even for the most limited use case," explained Co-Founder Carsten Lehbrink.
The software uses a simple touch-enabled user interface to build content streams from images and web pages. It also supports transition effects. Web pages will update in near real-time making it ideal for displaying information with web technologies. Content is easily created from corporate Powerpoint® or Keynote® templates that are read as images.
"All studies show that employee satisfaction rises significantly with good internal communication. Tellystream is a simple and inexpensive building block in any effective internal communication strategy handling anything from HSE or employee communication to visualization of company metrics," Co-Founder Guido Seifert points out.
Tellystream is available for a one time fee of $129 and supports multiple TVs at once as well as playing out to the Raspberry Pi® mini computer running XBMC.
About Tellystream
Tellystream is an info screen software that significantly lowers the entry barrier into digital signage by interfacing directly to Samsung consumer TVs or Raspberry Pis over a local LAN or WiFi network.
Related links:
Contact:
Carsten Lehbrink
press(at)tellystream(dot)com
+47 93603862
SOURCE Greenflow AS