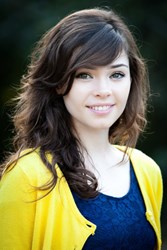 It's nice to know that every moment you are making someone's day and bringing a smile to their faces.
(PRWEB) December 04, 2013
MishysWords is a teen advice blog that has taken the web by storm. Her name is Michelle Sherrill and she's an eighteen-year-old actress who broadcasts herself on the internet making advice videos to struggling teenagers and young adults. MishysWords is reaching out to give all sorts of holiday advice to teens and college students who tune in daily to see and hear Michelle Sherrill on her YouTube channel, MishysWords.
Growing up in crowded Orange County and being an identical twin, Michelle always tried to find different ways to differentiate herself from the status quo. When Michelle was eight she began watching the Disney Channel and fell in love with the shows that Disney had to offer. After countless hours of studying television, Michelle began trying to imitate every actor/actress on That's So Raven and Lizzie McGuire until she got their lines down perfect. This is when Michelle realized that instead of being her own individual in the crowd, she actually enjoyed being every person in the crowd, and Michelle's love for acting blossomed from there.
A unique talent of Michelle's is that she's a great sympathizer and has an ability to bring out the best in others. Michelle never liked the idea of hating anyone because she knew that she could somehow relate to that individual in some way, and therefore saw them as an equal instead of a foe. Michelle remembers growing up and refusing to hate the main antagonists in her childhood TV shows, such as Plankton from Spongebob; instead of seeing him as evil little creature like the rest of her peers, she just thought that he was a very lonely little guy who needed a true friend. This sympathy and compassion for others provides Michelle with insight on seeing any situation from multiple perspectives and being able to understand other's dispositions. With this in mind, acting became natural to Michelle because she could understand and relate herself to any character of her choosing, and she could be any individual she wanted to be.
Michelle was in the 6th grade when she first heard of YouTube, and she instantly fell in love with the idea of being able to broadcast yourself online. Combining her acting capabilities and my internet connection, Michelle began to collaborate with her friends and post simple video skits online. The name of the channel' was TripleTheTrio, which consisted of: Michelle's sister, their friend Auroara, and Michelle. The channel reached 1,000 subscribers, which Michelle thought was incredible. However, scheduling for everyone to meet together was very difficult, so Michelle decided to create my own YouTube channel. Michelle was thirteen-years-old at the time and was given Macbook for Christmas, and realized that she could film directly on her webcam. At the same time friends of her's were dealing with some boy and parental issues, so Michelle decided to make them some advice videos. Michelle creatively named her channel MishysWords as in Mishy's Words of advice. Over the years her channel reached a nice fan base, and she has been very blessed with such great subscribers. Michelle expresses that "it's nice to know that every moment you are making someone's day and bringing a smile to their faces."
Though her YouTube channel has been quite popular, Michelle still has not given up her dreams of being an actress. Michelle turned eighteen a month ago and once she did, Michelle immediately began working to make her dreams a reality. Michelle has so far have booked a couple of commercials, a music video, and is working on a number of student and independent film projects. "Though it may be small work, I am trying to work and build myself up until the time comes when I will become a full-time working actress".
Visit MishysWords at http://www.youtube.com/user/MishysWords.