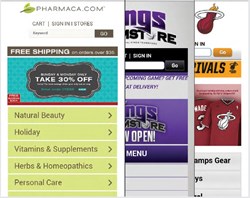 Mid-market retailers and emerging brands can best compete with these larger retailers by creating a better mobile experience for their customers, especially when it comes to mobile responsiveness and speed.
Rochester, NY (PRWEB) December 04, 2013
Black Friday and Cyber Monday sailed forward, but omnicommerce platform provider UniteU found a new trend emerging amongst their mid-market specialty retail clients. As the largest retailers reported higher percentages of traffic and orders coming from mobile phones and tablet devices, mid-market players experienced similar patterns. UniteU's retailers also found that extending the holiday shopping spree beyond Cyber Monday proved to be a successful strategy, with the Tuesday-after sales jumping an impressive 27 percent versus last year.
Analyzing the top 10 UniteU mobile sites for specialty retailers such as The Miami Heat Store, City Sports and Shoe Station, UniteU saw mobile phone traffic as high as 41 percent, almost half of retailers' total web traffic. When adding tablet devices into the mix, well over half of their traffic was generated from devices that are not the traditional desktop PC or laptop.
BIG GAINS IN MOBILE TRAFFIC TO MID MARKET RETAILERS
"What we are seeing for our mid-market specialty retailers mimicked exactly what the Web's largest retailers reported this Cyber Monday," says Soumen Das, CEO UniteU Technologies. For instance, USA Today reported that Walmart.com saw as much as 55 percent of its traffic was generated from mobile devices.
"Mid-market retailers and emerging brands can best compete with these larger retailers by creating a better mobile experience for their customers, especially when it comes to mobile responsiveness and speed," said Das. "It's clear that shoppers are not moving away from mobile and will continue to expect a great shopping experience no-matter the device they choose to shop on. Our Hybrid Responsive approach combines responsive design along with major speed improvements for 3G and 4G mobile devices."
Overall, mobile accounted for 26 percent of UniteU's top retailers' traffic over the holiday shopping weekend. Conversion rates proved mobile was the new shopping method of choice, with the average mobile conversion rate coming in at 2.1 percent and tablets converting at about 5.4 percent. Order volumes accounted for an impressive amount of total orders with mobile phones accounting for 8.1 percent of total orders received. IPhones and iPads are still consumers' desktop alternative shopping devices of choice, and accounted for 87 percent of all mobile and tablet orders, with the remaining 13 percent coming primarily from Android phones and tablets.
MID MARKET RETAILERS EXTENDING HOLIDAY PUSH WITH "CYBER WEEK"
Aside from mobile, 2013 was the year of the "Cyber Week" as Monday and Friday deals stretched beyond the traditional marked days of shopping. This was seen not only for UniteU retailers but across the board as flash-sale sites such as Rue La La started "Cyberathon" on Sunday rather than Monday.
"It will be interesting to see if this trend continues next year and we see Cyber Monday evolve into Cyber Week, or if this was a result of a shorter shopping season due to Cyber Monday falling so much closer to the actual holiday this year," said Mike Montrose, VP of Marketing and Sales at UniteU.
In analyzing the broader sales period--the week before Black Friday through the Tuesday after Cyber Monday--UniteU saw a significant jump in total sales year over year. Most notably, UniteU retailers saw a surprising 27 percent increase on the Tuesday after Cyber Monday alone, further proving that even mid-sized specialty retailers extended their shopping into a "Cyber Week." "We believe this trend will continue through the rest of the week and that retailers will continue to see higher sales through the next few post-Cyber Monday days than they did last year," Montrose said.
Marketers with aggressive promotional strategies such as site-wide discounts seemed to get the greatest orders results overall. However, the UniteU team worked with many merchants this year to utilize UniteU's new Advanced Promo module that enables more sophisticated promotions that resulted in retailers being able to maintain better overall margins. Being able to quickly implement these promotional strategies combined with the ability to cater to the increase of mobile savvy shoppers, allowed retailers on the UniteU eCommerce platform to compete exceptionally and perform at-or-better-than large omnichannel and other online retailers this season.
Also important to a successful shopping season is a strong infrastructure and support capacity. Several national retailers emailed apologies for embarrassing outages during Cyber Monday. Despite UniteU retailers seeing a 600 percent increase in their traffic and load on Cyber Monday, UniteU is reporting that all sites performed at optimum levels and without interruption.