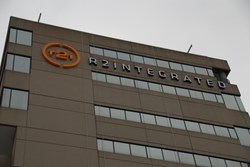 Baltimore, MD (PRWEB) December 05, 2013
R2integrated is a digital marketing and technology agency headquartered in Baltimore across from the Inner Harbor in a building owned by the Peter Libowits Company. R2i celebrated its first year in the Pratt Street building this summer and marked a milestone of growth by adding its sign to the building, replacing that of the Baltimore Examiner.
The physical sign was constructed by Apple Signs using color-changing LED lighting and computer technology that allows r2i to light the sign purple in celebration of Baltimore Ravens games or other colors as the seasons and city's events change. As noted by the Baltimore Business Journal, the only other similar sign to r2i's in the city is Under Armour's display.
Chris Chodnicki, r2i Co-Founder and Executive Director of Strategic Alliances and Partnerships says, "We're really proud to be sharing the Baltimore skyline with huge national brands like Under Armour, Legg Mason and T. Rowe Price. We've experienced significant growth since we started in 2007 and we are keeping pace with a quickly changing digital world. From Baltimore we are able to serve enterprise brands across the country and we're proud to have our roots here. The sign represents that."
R2i will be celebrating the official lighting of the new sign on Saturday, December 7th during the Baltimore Inner Harbor Parade of Lights.
For more on r2i, visit r2integrated.com.
About R2integrated
R2integrated ("r2i") is a high growth, next-generation digital/social marketing and technology firm specializing in creating meaningful customer engagement in the ever-changing world of peer-to-peer interactions and complex technology requirements. R2i provides advanced expertise in content and social media marketing and is able to bridge the gap between marketing disciplines and the advanced technologies required for 21st century execution. The company offers a comprehensive set of professional services and technology products including social/digital marketing strategy and programs, social/consumer data analysis technology, content strategy and content distribution technology, and reporting and analytics – all geared toward customer acquisition. R2i clients include Microsoft, Under Armour, MasterCard, MasterCard and Hershey's.