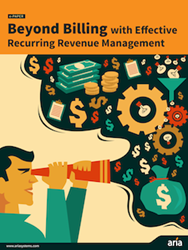 For any recurring revenue model to succeed, it is essential to manage the entire purchasing and service experience.
San Francisco, CA (PRWEB UK) 5 December 2013
Few businesses truly understand how to successfully optimize their in-house systems and processes to support a recurring revenue model. The latest e-paper from recurring revenue expert Aria Systems, titled, "Beyond Billing for Effective Recurring Revenue Management," outlines why businesses must think beyond billing and addresses key issues to consider before shifting to a recurring revenue system that works. The paper is one in a series created to better inform businesses large and small about the growing importance of effective recurring revenue management solutions in today's 21st century digital economy.
In addition, this new e-paper addresses key features of effective recurring models such as supporting customer relationships, enabling any recurring revenue model (from usage to subscriptions), managing cash flow changes, and supporting all the necessary processes along the way. It also provides a list of what businesses should require from an optimal recurring revenue management solution.
Moving to such systems is much more complicated than augmenting a company's current billing system, and requires far more considerations about interactions with the customer, the e-paper notes. That's because a customer's buying experience with the business has a significant impact on lifetime value of the customer to the business. That value determines the amount that customers will spend over time.
"Billing is just one type of interaction a business can have with their customers," says Jon Gettinger, Senior Vice President for Marketing at Aria Systems. "For any recurring revenue model to succeed, it is essential to manage the entire purchasing and service experience. Forward-thinking businesses understand this point and are willing to take a close look at their operations and processes as they shift to delivery of products and services on a recurring basis."
Recurring revenue is a relatively new phenomenon for many businesses, the e-paper observes. But first-to-market business jumping on the recurring revenue bandwagon will make decisions about monetization that underwrite their overall business plans.
"Unfortunately, too many companies are locked into billing solutions that do not enable pricing changes 'on-the-fly,' nor do they support market changes, channel relationships, or dynamic pricing strategies," the e-paper notes in its conclusion. "The company that plans ahead for this reality will most likely be the one to survive and prosper in this exciting new market," said Gettinger.
Consider downloading the Beyond Billing For Effective Recurring Revenue Management e-Paper and make an educated decision on the future of your recurring revenue offering.
About Aria Systems
Aria Systems helps leading businesses connect their customers with the products and services they love. Industry leaders like Pitney Bowes, Experian, AAA NCNU, VMware, HootSuite and many others choose Aria to power their recurring revenue business and deliver exceptional experiences to their customers. Learn more about us at http://www.ariasystems.com.