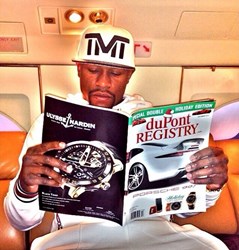 Tampa, Florida (PRWEB) December 05, 2013
A little after midnight on Dec. 4, 2013, boxing legend and businessman Floyd Mayweather, Jr. posted an image to his Instagram, Facebook and Twitter accounts of himself doing some casual reading on his private jet. In his hands is the December issue of the duPont REGISTRY, featuring a special Holiday Gift Guide outlining the finest and best gift ideas for the affluent.
The duPont REGISTRY is a monthly publication featuring the finest classic, luxury and exotic cars for sale in the world, as well as supercars and the world's most exspensive watches. The December issue featured the first-ever Holiday Gift Guide, which includes items ranging from a $150 carbon fiber money clip from Z-Clip Lemans, to a $3.5 million customized American Eurocopter EC130. On the back cover, you can see Ulysse Nardin's Black Toro watch, featuring an 18 ct. rose gold case with ceramic bezel, for only $57,400.
Floyd "Money" Mayweather has been an open fan of the magazine for years, mentioning his support of the publication and brand in a multitude of interviews. A Sept. 11, 2013 Yahoo! Sports feature on Mayweather mentions his love of shopping on duPontREGISTRY.com; a Huffington Post article from the same day mentions how he "can name every car in the duPont REGISTRY" and that he "owns many of them, almost all in white…" Another post on Mayweather's Instagram account on Dec. 3 also showed him relaxed on a private jet and reading the December issue. The caption read, "G4- Say no more – themoneyteam.com."
By Caitlin Duffy